Sometimes people don't know what a cat lover they truly are until they meet the cat who steals their heart. And once the cat lover inside has been uncovered, the new cat parent will do everything in their power to give their kitty darling the whole world!
As was the case with Derek Roche and his kitten, Jellli.
Derek wasn't too into the idea of adopting the little black kitten in the first place, but his girlfriend was too excited. So, when she pleaded with him to let Jellli into the bed for just one night, well, the rest was history.
By the dawn of the next morning, Derek shared, "I was head over heels in love with her."
That fast, Derek was a cat dad.
In a post on Facebook, he wrote, "She's my best friend and I can't imagine life without her."
The pair loved to roam together in the yard, Derek watching as his house panther prowled the grass in curious excitement. But Jellli's health started to falter and she lost some of her spunk, some of her outdoor curiosity also dimming. Derek and his girlfriend began working with their girl to revive her spirit.
They also decided to expand the family, adopting two more cats.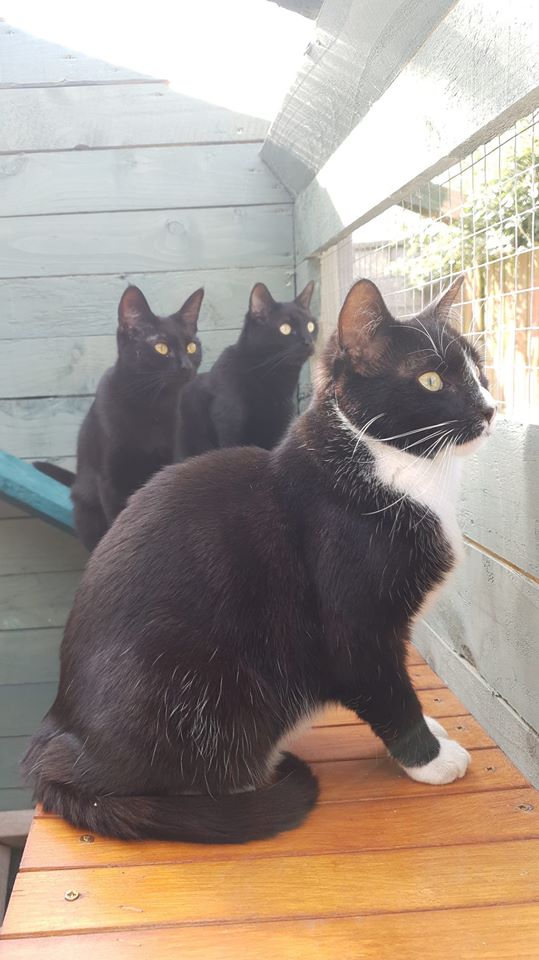 Tuxedo cat Smudge and black cat Penny soon joined the family. Jellli's new brother and sister also enjoyed their outside time, so Derek decided all three cats needed a safe outdoor space all their own. And as devoted cat parents, what do we do for the kitties we love?
Everything!
Including spending a whole year creating the purrfect catio!
Cat-Designed, Human Built
Though Derek had never taken on a project so large, Jellli and the new cats were worth every minute of the work. Derek reported, "There was a lot of detail in the work and I was pretty much learning as I went."
Before work in the morning and every weekend, Derek gave himself over to catio construction. "I had a plan in my head and I pretty much stuck to that".
He never worked alone though.
"Jellli came on-site every day and I watched her movements and her reactions to how things were going, where she liked to sit, how she climbed around the structure. And I used her to get a sense of scale for walkways, doors, etc. I tell people that, as well as my muse, she was my site manager and co-designer."
Once to a place ready for cat habitation, complete with litter pans, food, and water stations, Jellli and Smudge took right to their new space, but Penny needed a minute. Once inside with her brother and sister, Penny came around though and all three cats love their catio.
And how could they not? There's even a catnip planter inside too!
Derek is currently still at work, adding to the cation at every chance. His recent addition? "Got some gnarly pieces of oak to take the catio to the next level. Took a lot of time to chisel out the holes and shape it the way I wanted it but I'm happy with how it turned out."
This ultimate cat tree left the cat dad considering, "Can't remember if it's cats or hobbits I have." Either way, they love their dad's creation!
Please SHARE to pass on this story to a friend or family member.
H/T: www.theanimalrescuesite.com
Feature Image: Derek Roche/Facebook