A kitten with the most unusually perfect face is so happy to find a place of his own.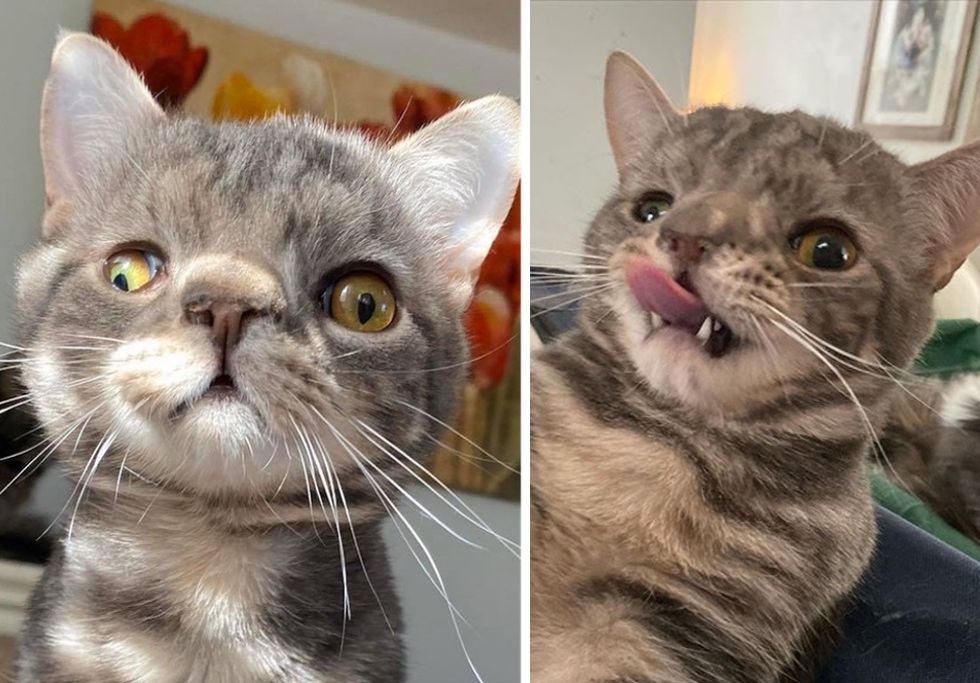 The Odd Cat Sanctuary
Maverick the cat was six months old when he was surrendered to a shelter in New York. His former family could no longer care for him and his fate became uncertain. Shelter staff began looking for a rescue group that would be equipped to help the kitten and ensure his quality of life.
The tabby was born with a genetic condition which gives him the unique features on his face. He has a flatter nose, eyes that go in different directions, and mild hydrocephalus. Despite it all, he is the happiest little guy and constantly seeks attention from people.
Tara Kay, founder of the Odd Cat Sanctuary in Massachusetts, learned about his plight and knew they could help.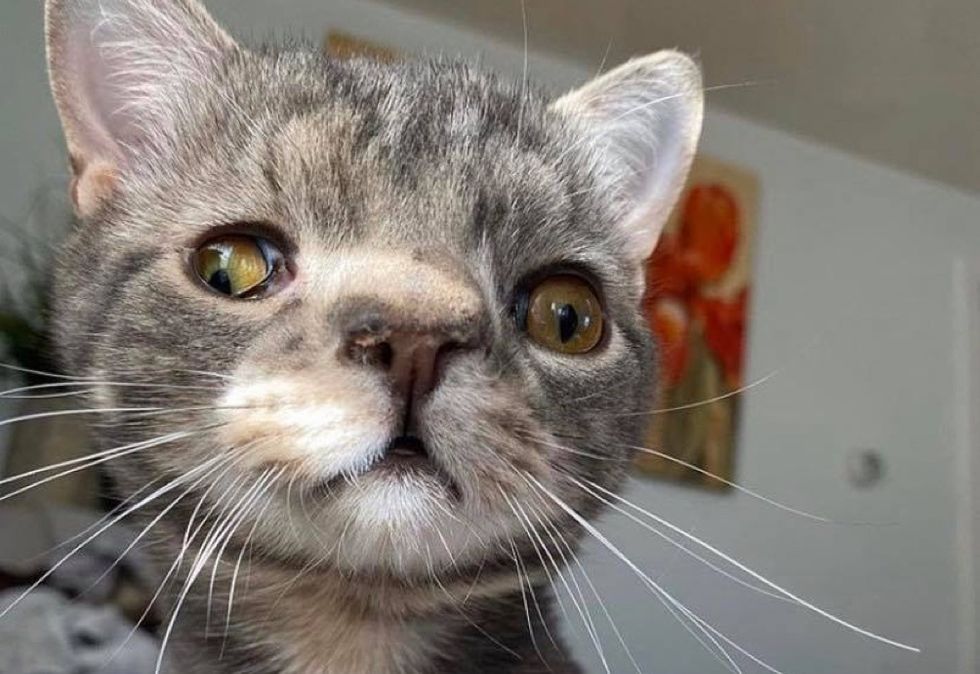 The Odd Cat Sanctuary
The sanctuary rescues special needs cats and kittens that are deemed "unadoptable," and provides them life-long care that they need to thrive.
Little Maverick purred up a storm immediately after he arrived. He was so happy to have a warm bed to sleep in, plenty of good food and toys, but mostly people to love on.
"He may look a bit different but he is just the same as any regular cat on the inside," Tara shared with Love Meow.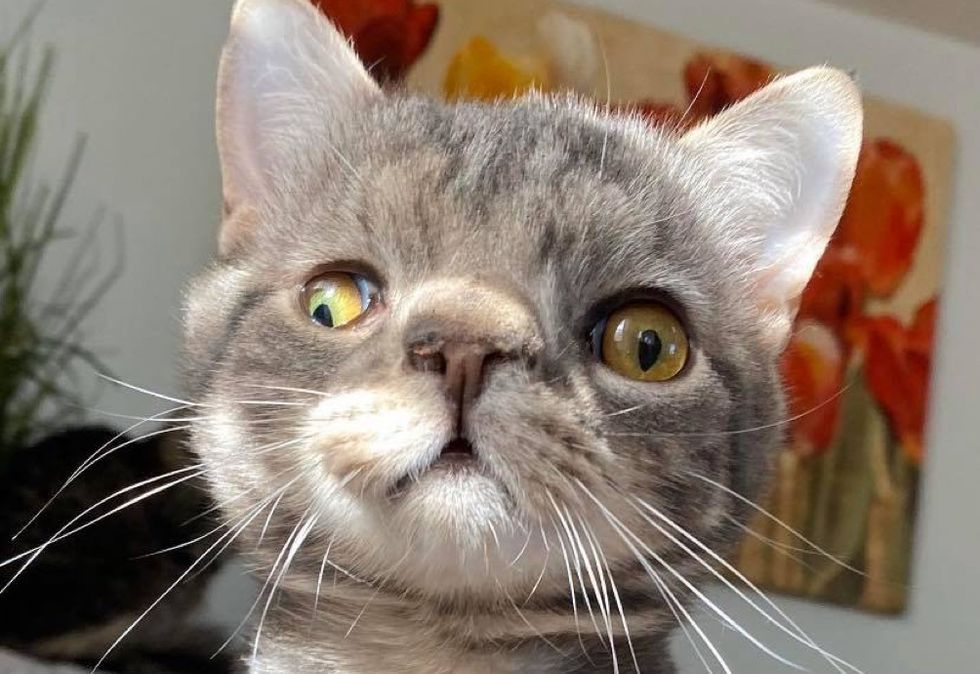 The Odd Cat Sanctuary
Maverick is a people-cat. He likes to make cute little meow-chirps when he demands attention, and he prefers being cuddled in his caregiver's arms when he naps.
"He doesn't have the best eyesight but he can see just fine. He breathes a little bit louder from his smushed face, but he is happy and healthy," Tara added.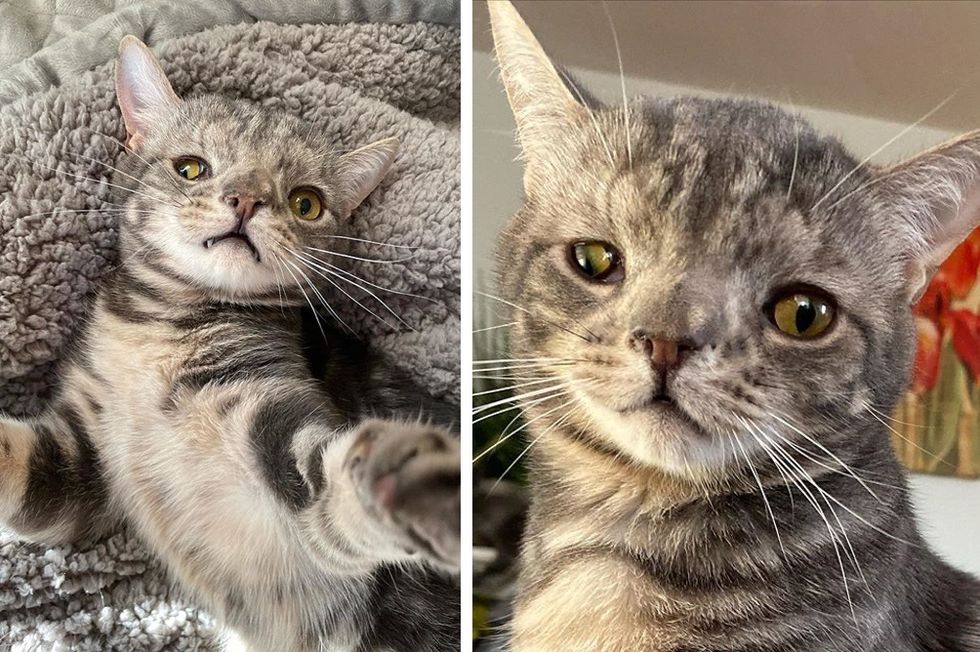 The Odd Cat Sanctuary
Once the kitten was ready to meet other friends, he was introduced to his feline roommates. Maverick took to them right away, and they began to hang out, watch bird TV, and nap together.
"He is instantly friends with everyone. He loves to play, wrestle with them, and he adores any other cat he meets," Tara shared with Love Meow.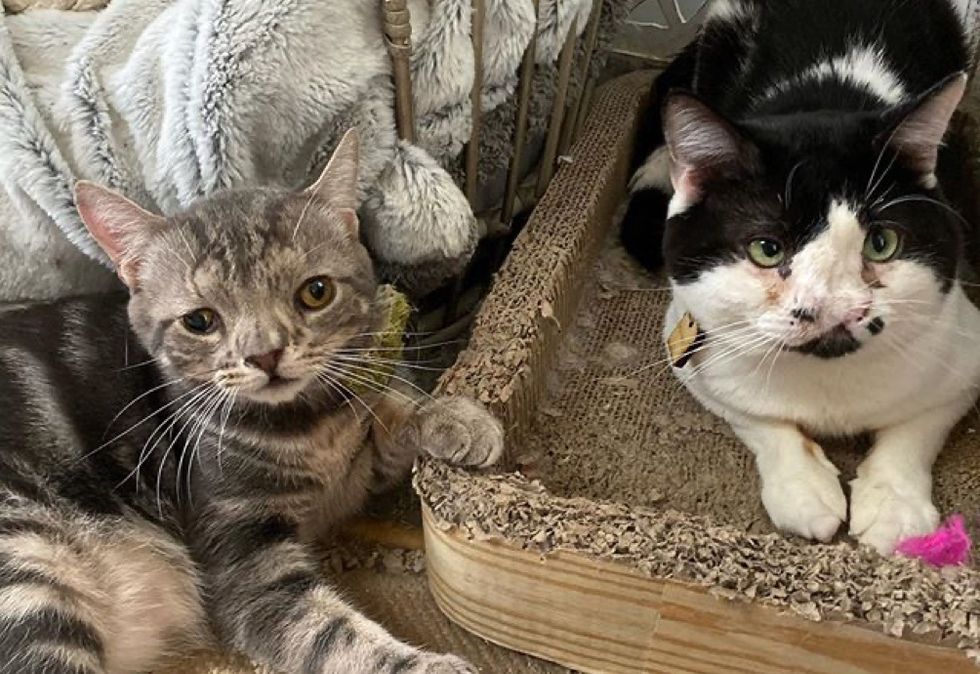 The Odd Cat Sanctuary
The tabby boy is very expressive and isn't shy about voicing his opinions. If he wants something, he reaches out and grabs it, and he won't take no for an answer.
When Maverick wants more treats…
The sweet kitty is thriving in his forever home with a big family he so adores.
He may not have excellent vision, but he makes up for it with his amazing hearing and sense of smell.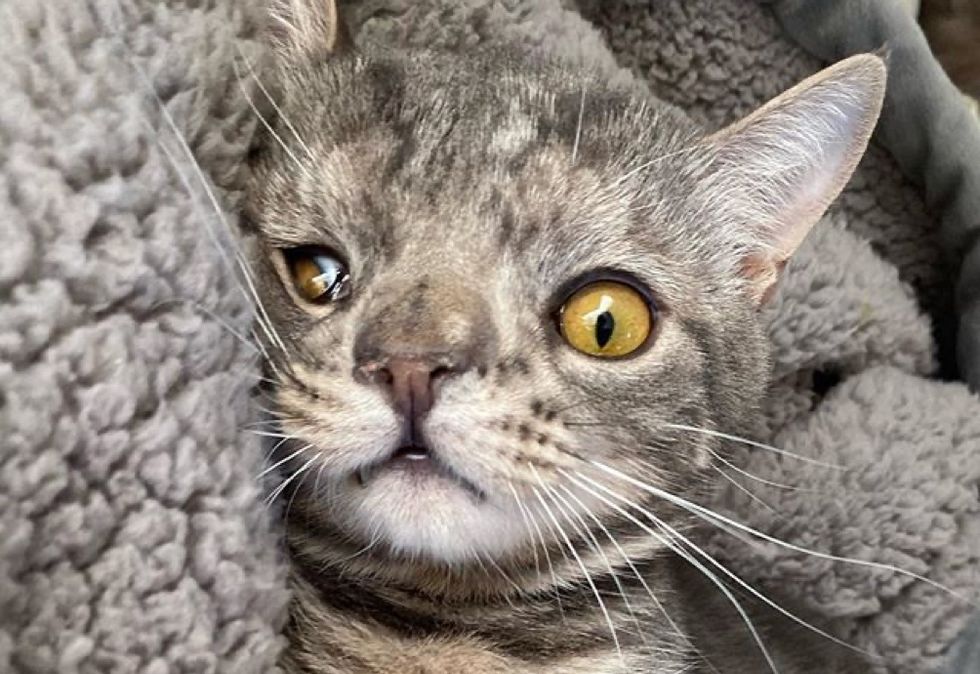 The Odd Cat Sanctuary
If there is a treat in the room, the smart kitty always finds it first. Nothing that is delicious smelling, can escape him.
The mischievous tabby likes to show off his cute little fangs — his signature smile.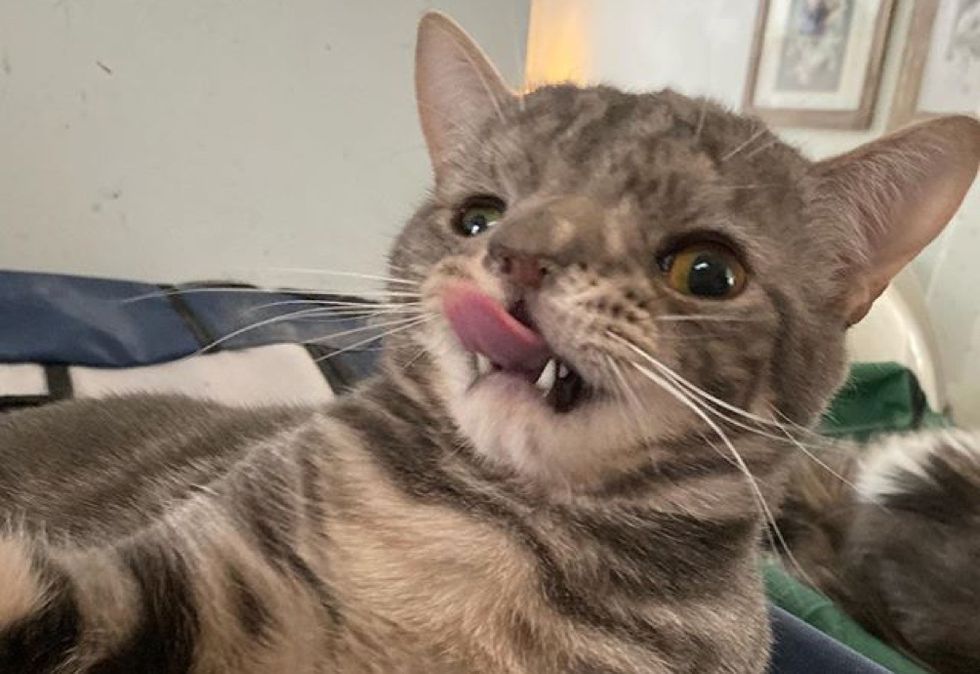 The Odd Cat Sanctuary
When he is not hanging out with his feline roommates or doing the neighborhood watch, he is most likely snuggling with his human friend while purring up a storm.
There is never a dull moment with this little buddy.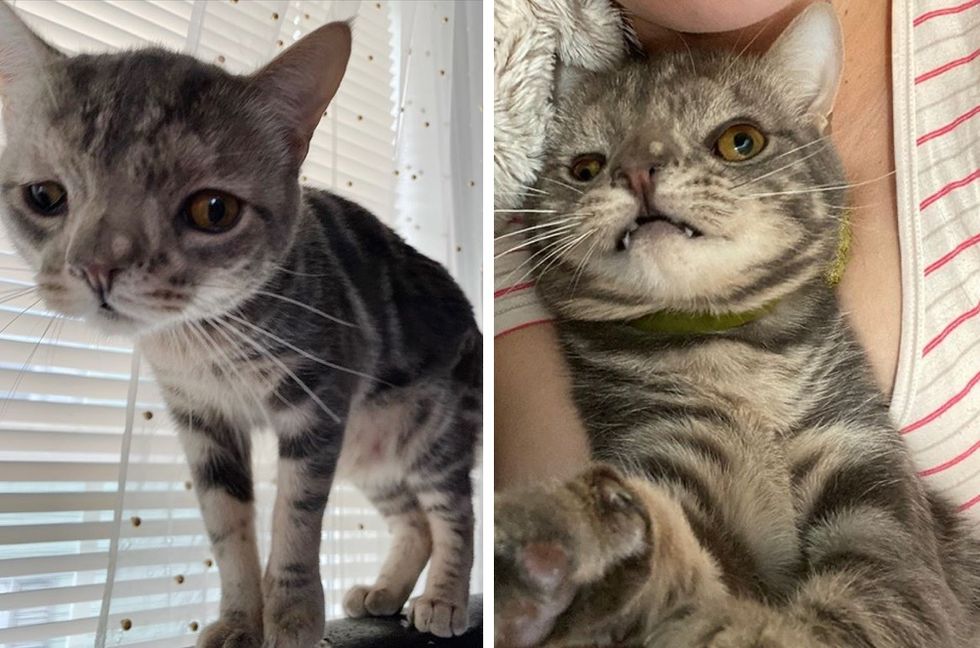 The Odd Cat Sanctuary
Maverick doesn't know he is any different and goes on living his life to the fullest every day.
He enjoys being the supervisor at the sanctuary and is never tired of being cuddled.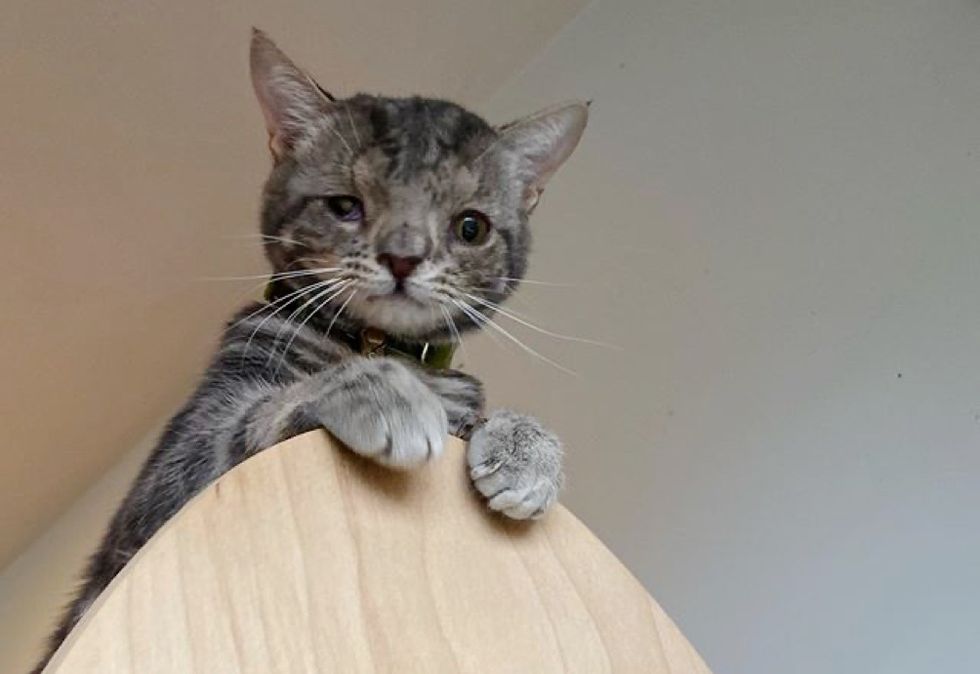 The Odd Cat Sanctuary
Share this story with your friends. Follow the kitty and his adventures on Instagram and follow the Odd Cat Sanctuary on Facebook and Instagram.
Maverick makes the cutest biscuits!
Related story: Stray Kitten with Rare Condition is So Happy to Find Perfect Home