A cat who has lived most of his life on the streets, takes foster kittens under his wing.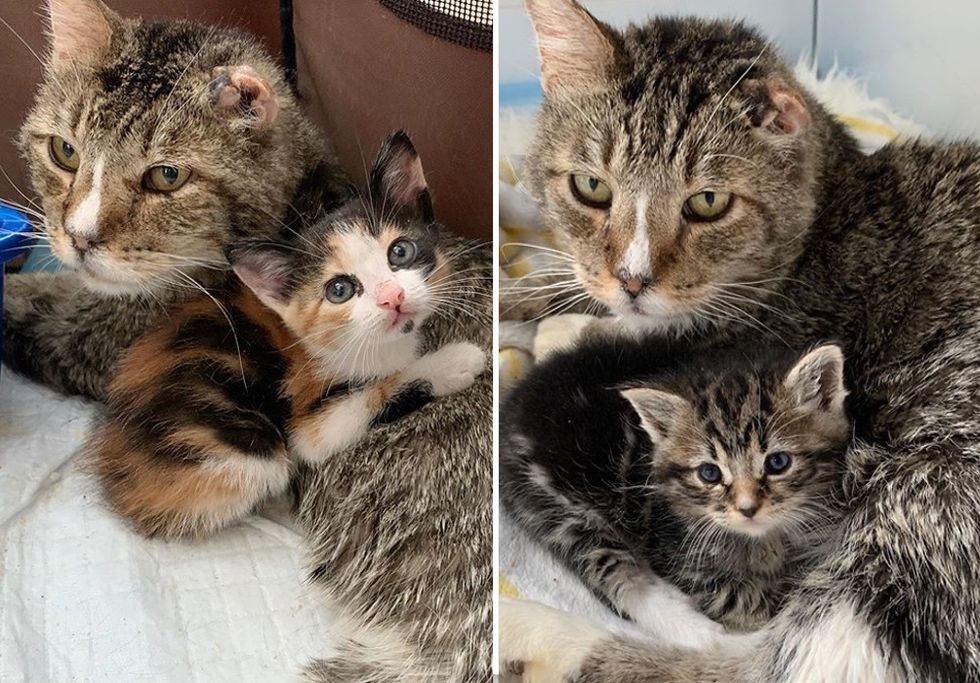 Alley Cat Rescue
Alley Cat Rescue in Los Angeles took in a senior cat who was found wandering the streets by himself, last year.
The tabby was left behind after his owner passed away. He continued to return to his old home, trying to get in but was not able to. The elderly cat was eventually picked up by Alley Cat TNR (trap-neuter-return) rescuers.
"He had stomatitis, liver disease and his teeth were broken off. He was an intact male cat, never neutered," Alley Cat Rescue told Love Meow.
After his life on the street, the cat was left with a host of health issues, many battle scars and covered in matted fur. One of his ears was mangled due to infections. Despite it all, he was very thankful to be safe and just kept purring.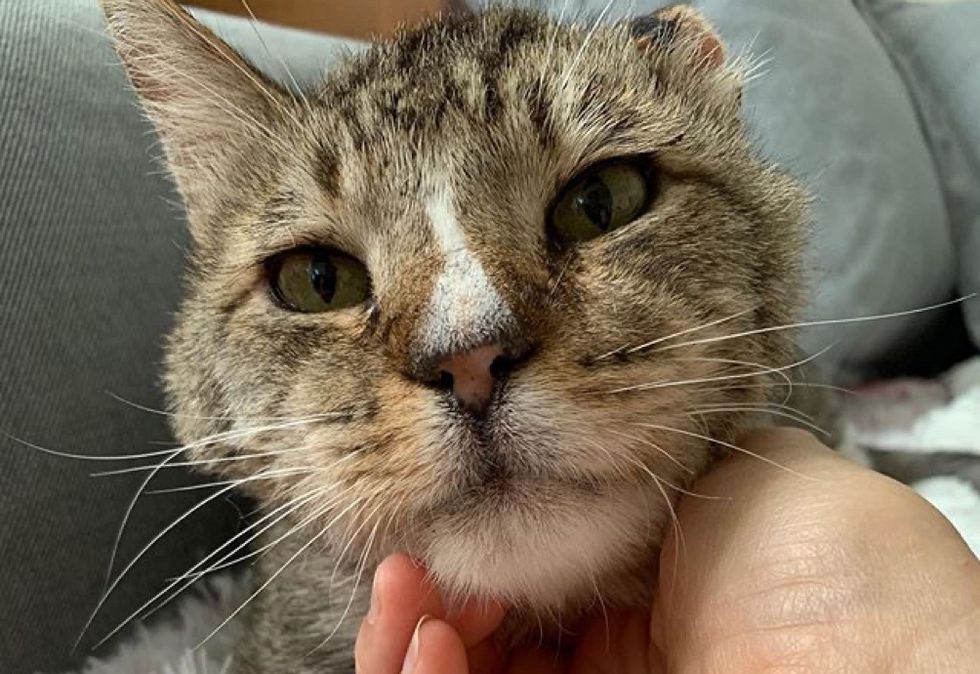 Alley Cat Rescue
"He purred throughout his exam at the vet and talked to the staff at the clinic," Alley Cat Rescue added.
The sweet tabby named Harrow began to gain weight and strength. He managed to recover from a severe upper respiratory infection, and his fur started to grow back.
To help him heal and stay in good spirits, the rescue paired him up with a couple of foster kittens. Harrow took to them right away and started caring for them as his own.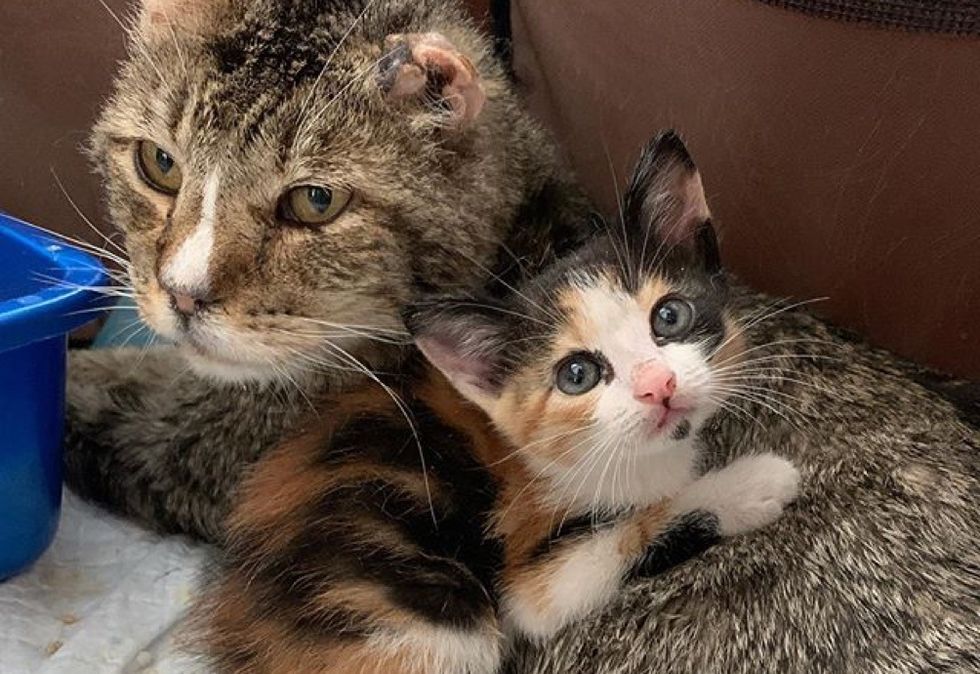 Alley Cat Rescue
His purr motor was constantly running with the little ones around him, and he was the happiest he had ever been. The kittens adored their foster dad, nuzzled right up to him and even attempted to nurse.
Stella the calico was found on the streets of Los Angeles. She was all alone and needed a friend. "She immediately settled next to Harrow, and often I saw her lying on top of him," Alley Cat Rescue shared with Love Meow.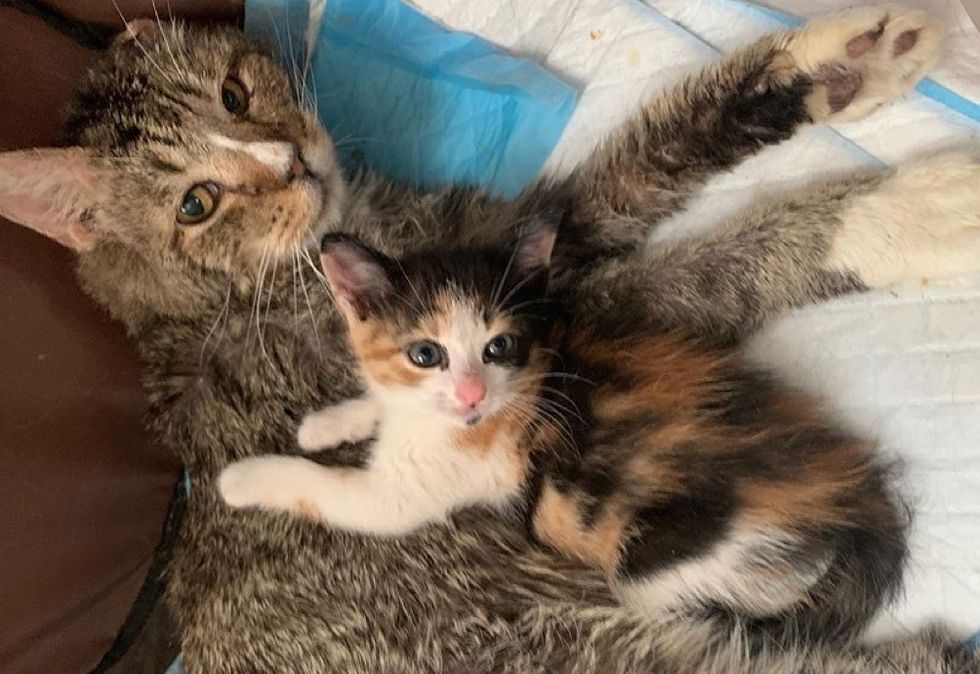 Alley Cat Rescue
Having the kittens around has brought new meaning into Harrow's life. The fosters find comfort in him and in return, they help him stay strong.
Baby Noelle came to the rescue as a singleton. She couldn't stop crying until she met Harrow. "He took the little kitten under his paw. His constant raspy purr really helped keep Noelle a happy baby."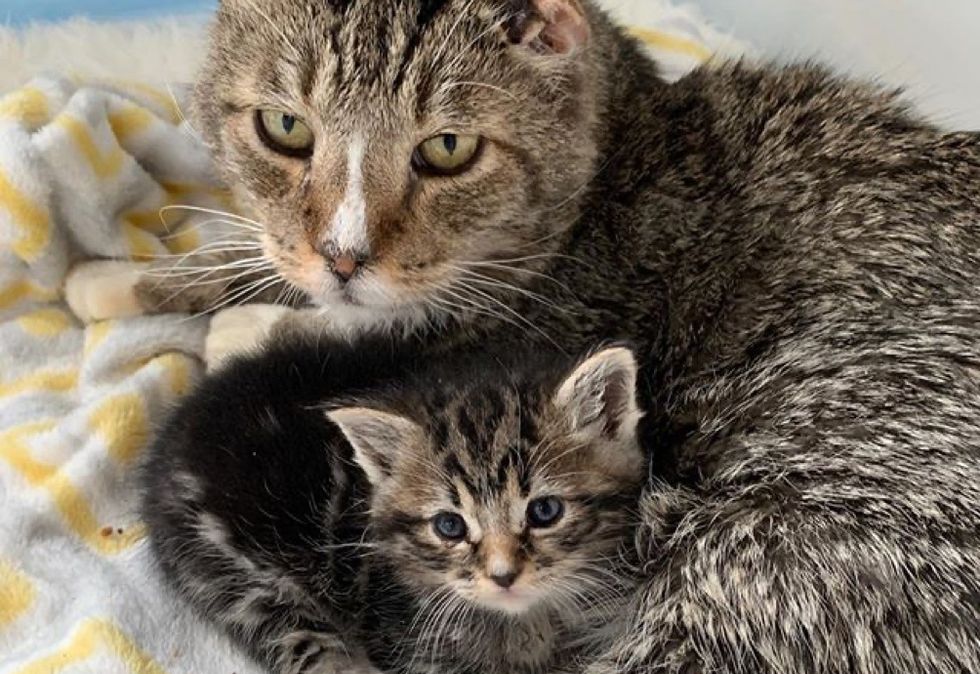 Alley Cat Rescue
Noelle had to stay in foster care longer than some of the other kittens. Harrow kept her company so she would not feel alone.
The little tabby loves her cuddle buddy.
"They had very mutual love. It was great for Noelle as all the other healthy babies had been adopted, and she still had someone to play with," Alley Cat Rescue said.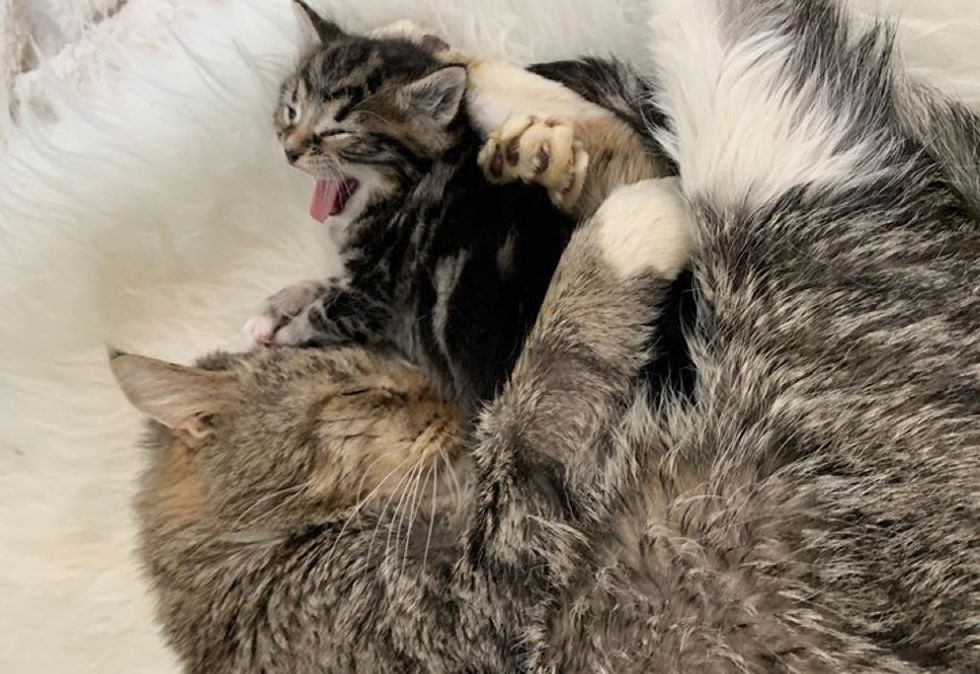 Alley Cat Rescue
The senior cat seems to know what the kittens need to thrive and showers them with love. The fosters gravitate toward him as they feel at ease by him.
"Harrow always wants to be near the kittens," the rescue said. "The kittens are happy to have a purring warm kitty to snuggle. They climb all over him and run around his feet when he eats."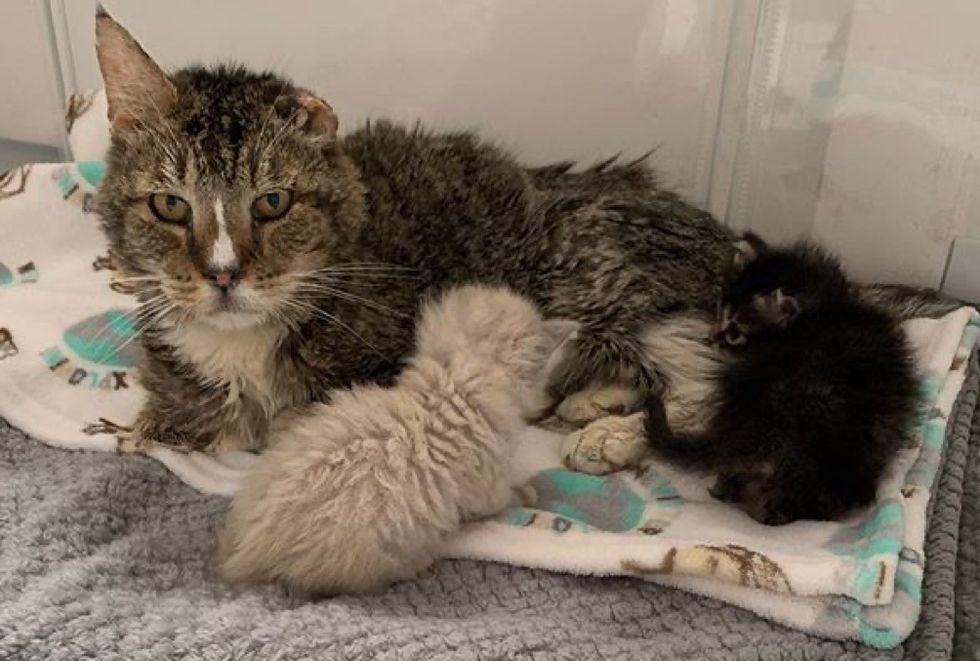 Alley Cat Rescue
Alley Cat Rescue provides life-long care and plenty of kitten cuddles to ensure that Harrow lives out his golden years with joy, comfort and love. The highlights of his days are always about his little foster babies.
With his help, little Eevee's injured eye healed up nicely and she even regained some vision.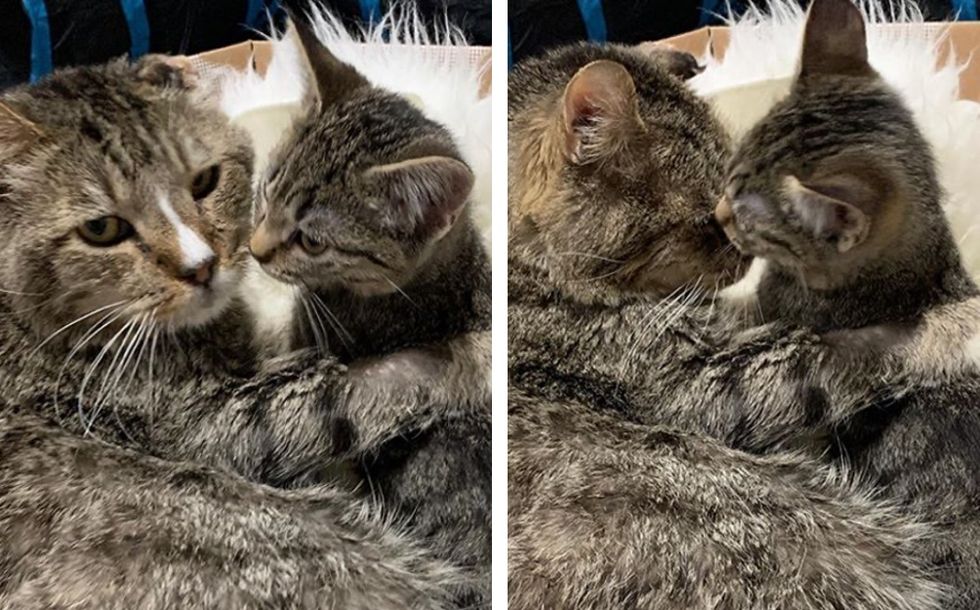 Harrow cuddles with EeveeAlley Cat Rescue
Many kittens who have since been adopted, got to spend a few nights or weeks with Harrow as they needed a companion.
The old boy has been caring for fosters for almost a year. He is the happiest every time he is with the babies.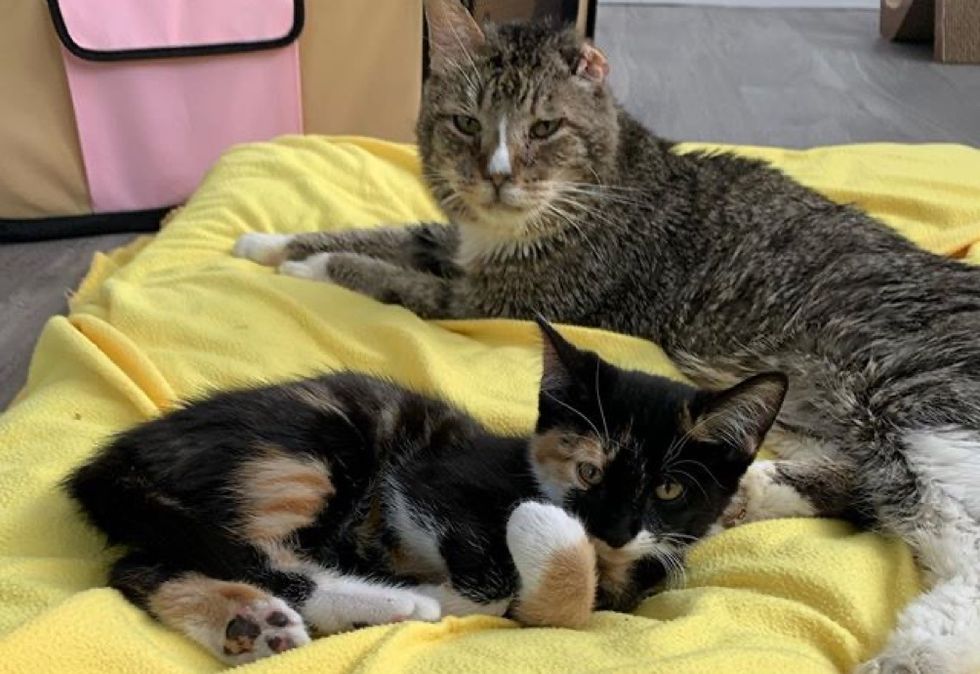 Alley Cat Rescue
Follow Harrow the cat on Instagram. Follow Alley Cat Rescue on Facebook and Instagram.
Harrow and his kittens.
Share this story with your friends.
Related story: Kitten Found Alone on the Street, Meets Dog and Insists on Being His Friend