A man rescued a tiny kitten who was stuck on a road. The kitty hopped on his shoulder and wouldn't let go.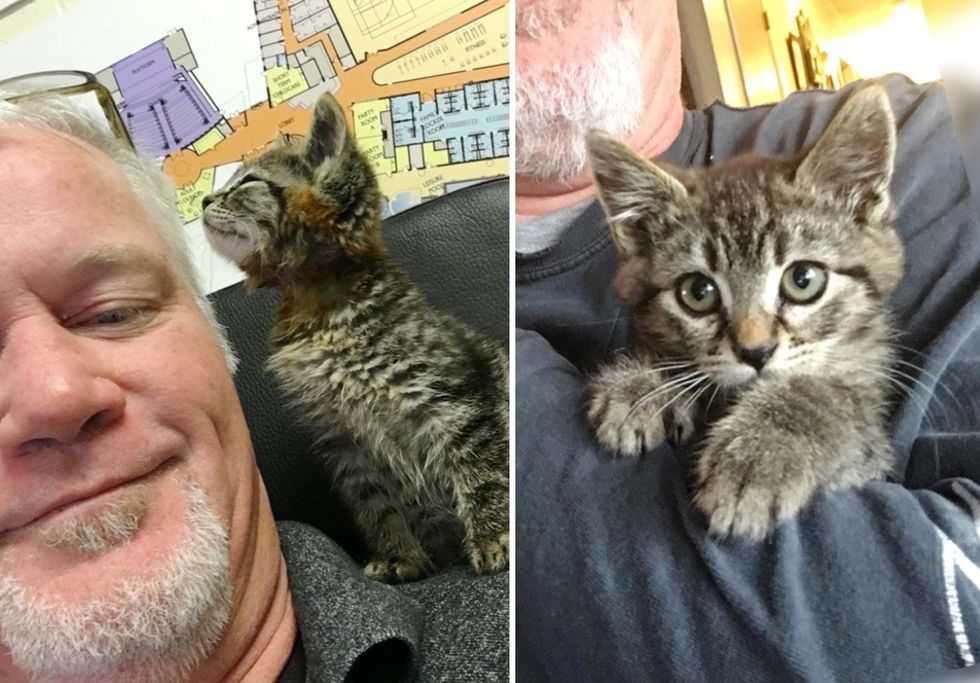 Chuck Hawley
Chuck Hawley from Oregon was driving to work when he noticed a tiny ball of fur on the road head of him. He didn't know what it was until it suddenly propped up, and Chuck saw a silhouette of a kitten.
The little stray appeared to be stuck on the road and couldn't break free. "I realized it was a kitten sitting upright shaking like a leaf. He was wet, freezing and literally glued to the road," Chuck told Love Meow.
Chuck sprang into action and was able to safely pull the kitten from the busy road. The kitten's paws were covered in some sort of rubber cement. Chuck gently placed him in his arms to keep him warm and reassure him that he was safe.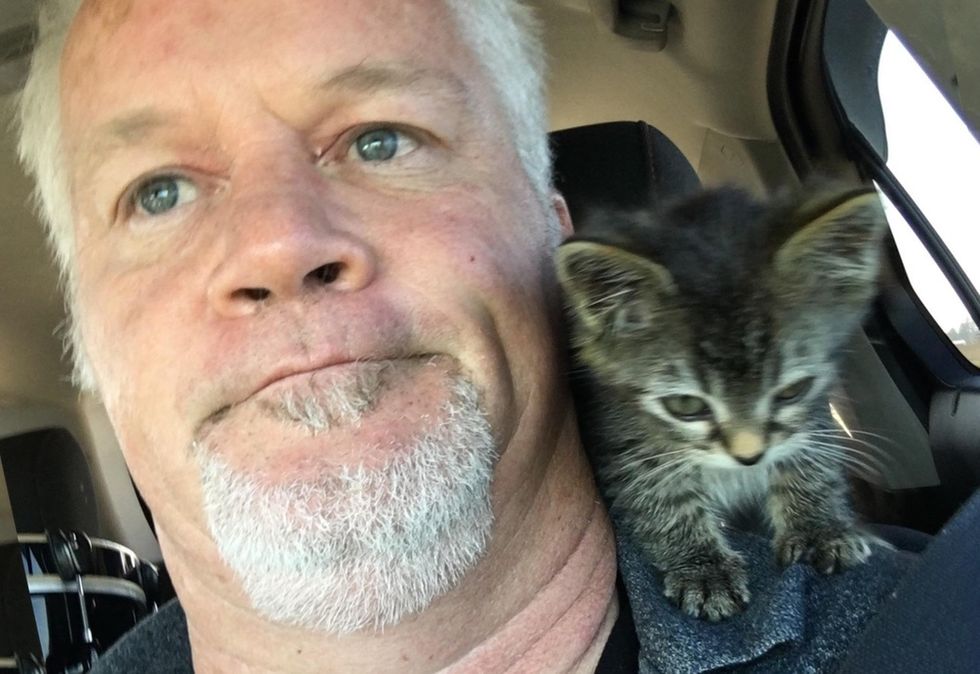 Chuck Hawley
Once Chuck got the kitten in his car, the little guy crawled his way up his shoulder and decided to cuddle. "My shoulder was where he wanted to be."
After trying to remove as much glue as possible, Chuck brought the kitten to Silver Creek Animal Clinic where the tabby was thoroughly cleaned and given the medical attention he needed. The grateful little kitten held onto his rescuer while they were there, and even fell asleep in his arms.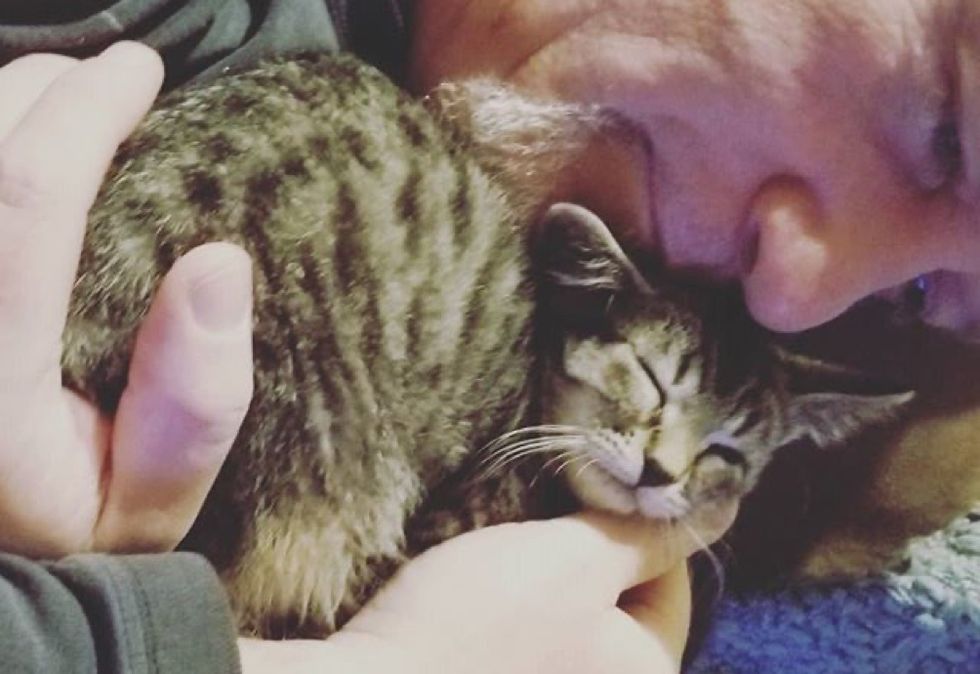 Chuck Hawley
Chuck's family fell head over heels for the little guy, and knew it was meant to be. They named him Sticky and made him a part of their family.
The sweet tabby quickly found his favorite spots to perch on — his humans' shoulders or heads. In less than one day, Sticky's life was forever changed. He was so happy to have a roof over his head, all the good food that he could feast on, and a loving family that he clung to so dearly.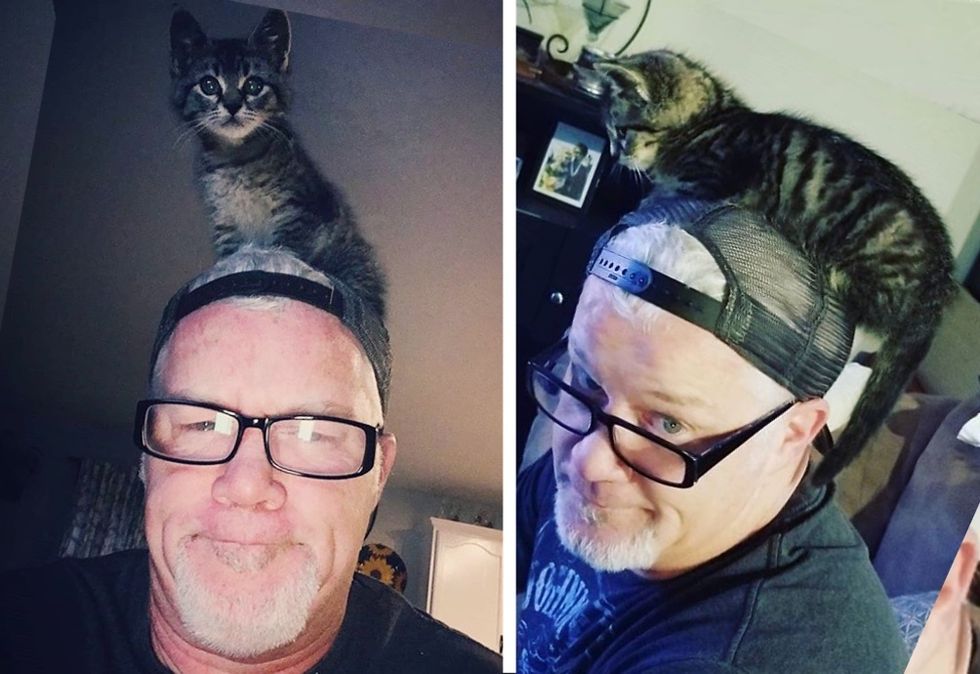 Chuck Hawley
The kitty insisted on being held or cuddled whenever possible. He wanted to be the center of attention and often sought out his humans for a shoulder ride around the house.
Sticky was the perfect little shoulder kitten. As he grew bigger and stronger, his personality started to shine through.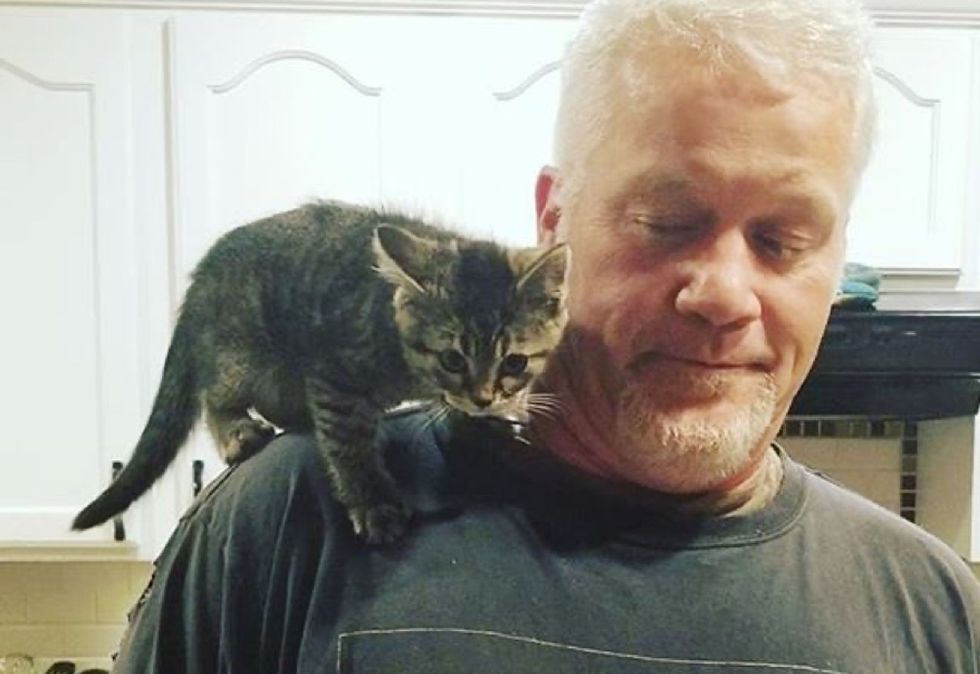 Chuck Hawley
He would wrestle with the resident dog and run around the house like he owned it. He liked to supervise his humans when they were doing chores or fixing things around the house.
No matter how mischievous he might be, by the end of the day, he would snuggle up to his people for some TLC.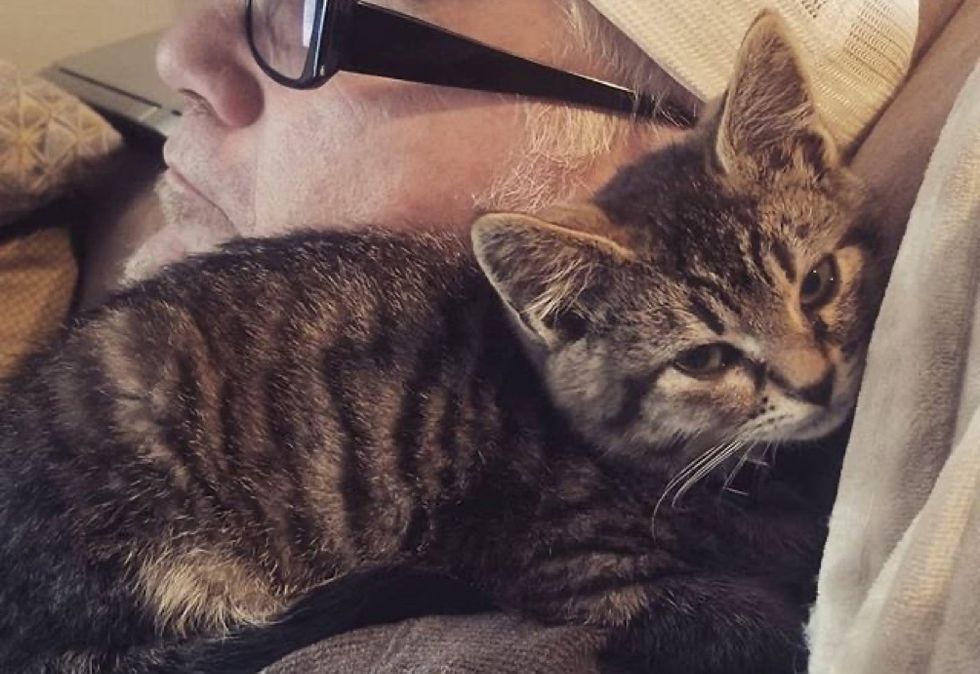 Chuck Hawley
The rambunctious tabby boy brings a lot of joy and adorable quirks to his family.
Sticky always has a way to get what he wants. He will beg for it by standing on his hind legs and waving his front paws in the air. Who could possibly say no to that?
The tabby is all grown up now, turning two years old this fall. He has blossomed into a handsome, playful cat, but some things will never change.
Despite having many seating options at home, Sticky still finds himself perching on his Dad's shoulder as it is the most comfortable of all.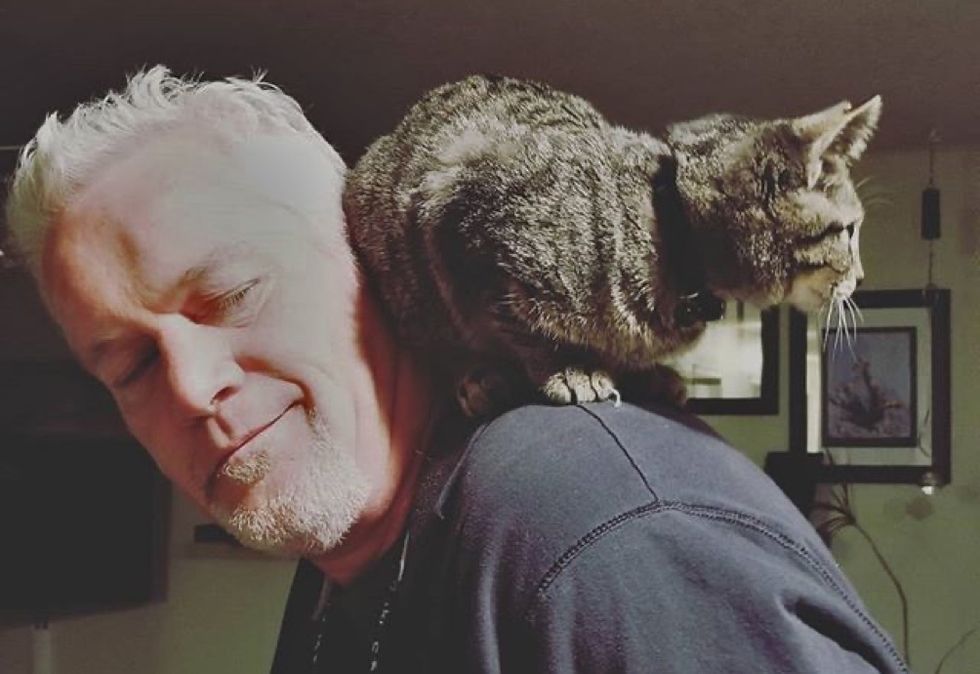 Chuck Hawley
He has been Chuck's most loyal companion since the day they found each other. Sticky enjoys taking naps and watching the day go by with his favorite person.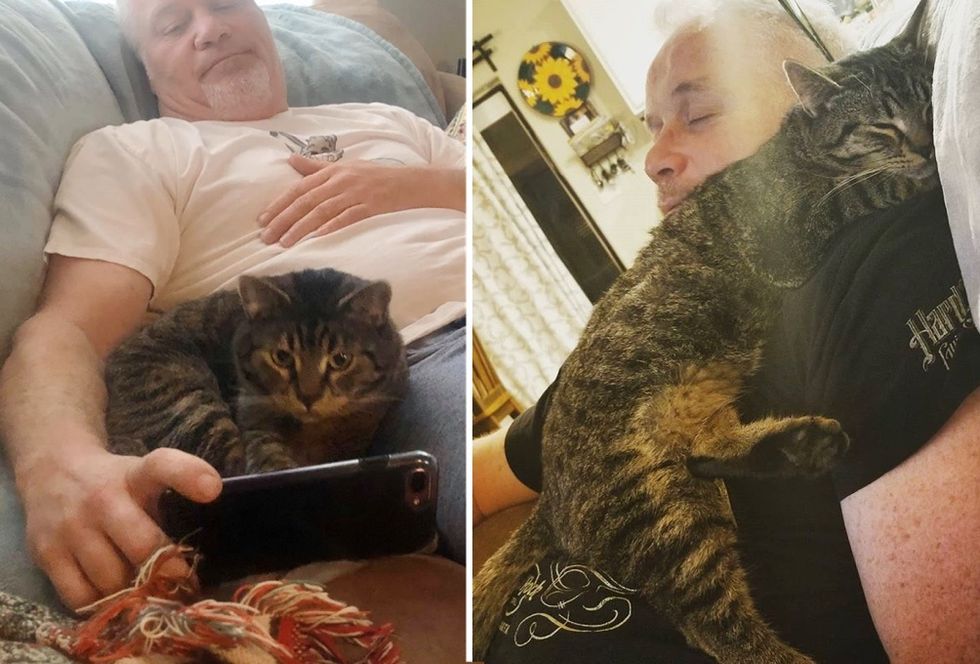 Chuck Hawley
Sticky has inspired his family to help other animals in need. The Hawley's started a nonprofit, Sticky the Kitty Foundation, in honor of their beloved tabby boy.
"It is dedicated to helping animals and their humans learn that even the simplest act of kindness can spread hope and joy throughout the world."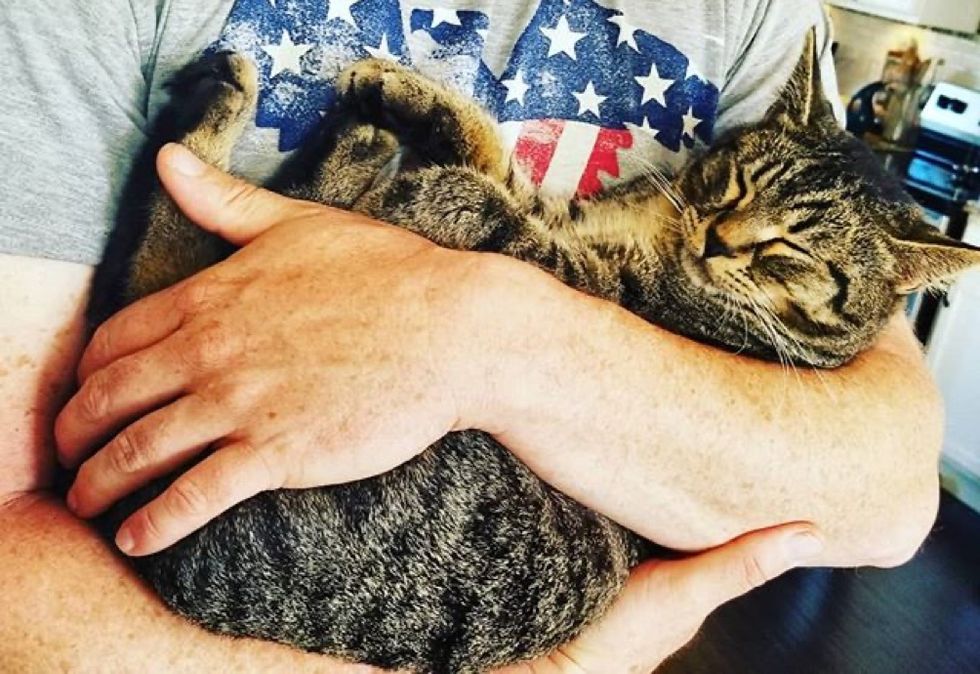 Chuck Hawley
"This little furball literally stopped us in our tracks and became a symbol of hope and kindness. It's been quite the journey," Chuck's family wrote.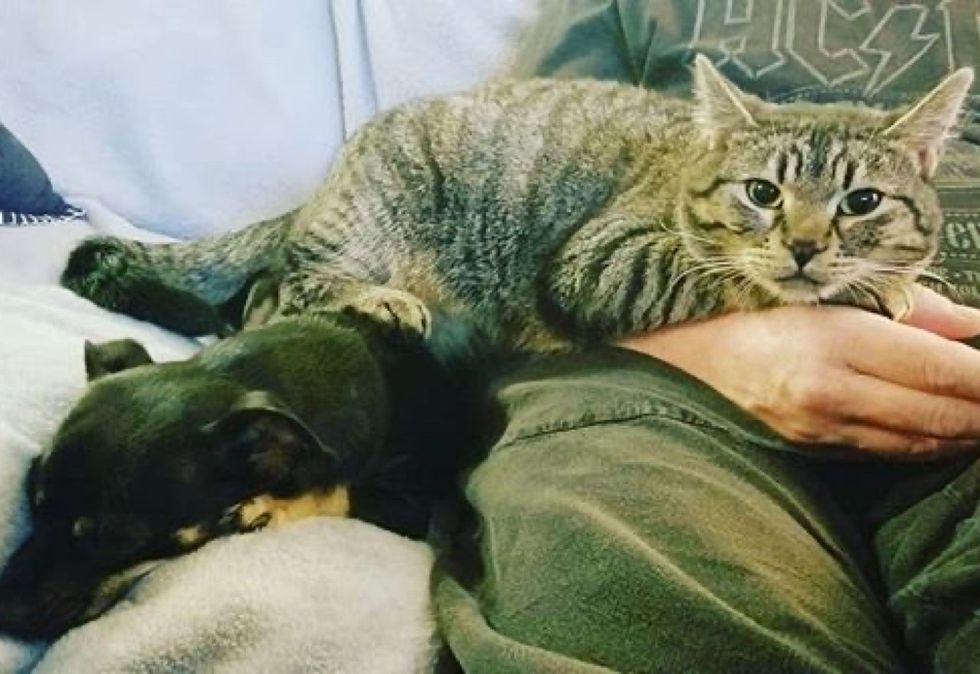 Chuck Hawley
Share this story with your friends. Follow Sticky the kitty on Facebook and Instagram.
Related story: Stray Kitten Came Back to Man Who Was Kind to Him, and Decided to Stay