A kitten with the sweetest face and strong spirit had his life turned around by a team of kind people.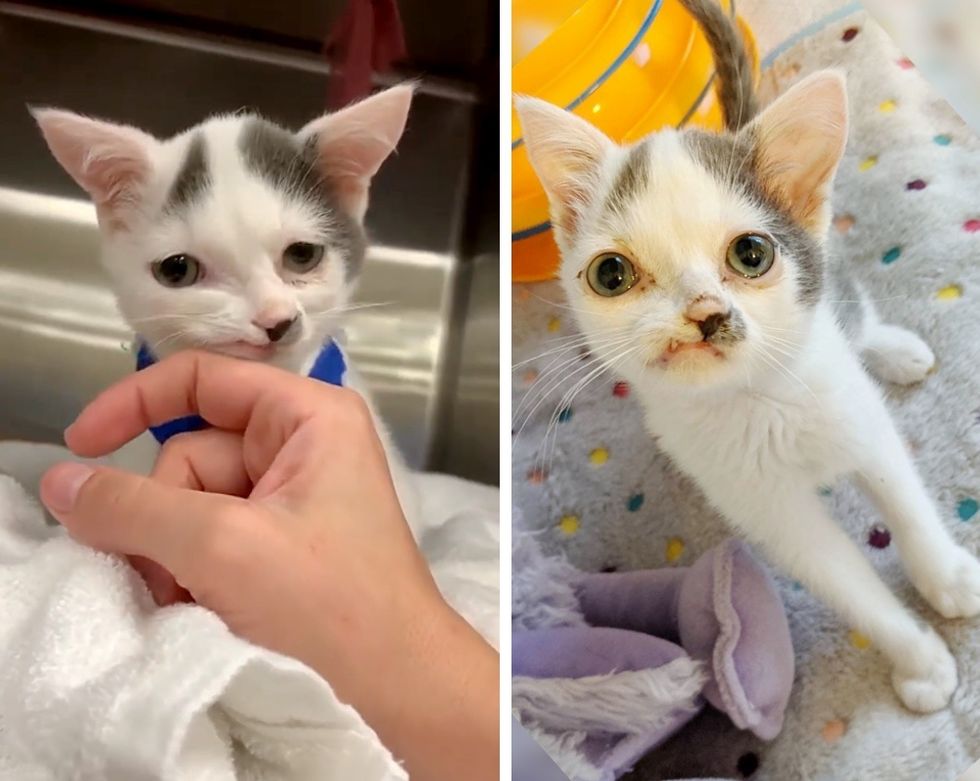 Friends for Life Rescue Network
A kitten with a misaligned jaw was rescued from a rough situation. He came with a host of health issues but was in good spirits and just wanted to be petted. Friends for Life Rescue Network in Los Angeles took him into their care.
The kitty with a tiny snaggletooth was just skin and bones and covered in fleas. He was battling a mild upper respiratory infection and had a severe umbilical hernia that needed to be repaired. He was so hungry that he wolfed down two cans of kitten food in one sitting. After filling his tummy to the brim, he drifted off with a food coma in his new, comfy bed.
After a much-needed, long, healing rest, he bounced back on his paws and made his way to his caregivers, demanding pets and attention. "He is a pretty loud purr machine, rambunctious, curious, playful and very sweet," Jacqueline DeAmor, founder of Friends for Life Rescue Network, shared with Love Meow.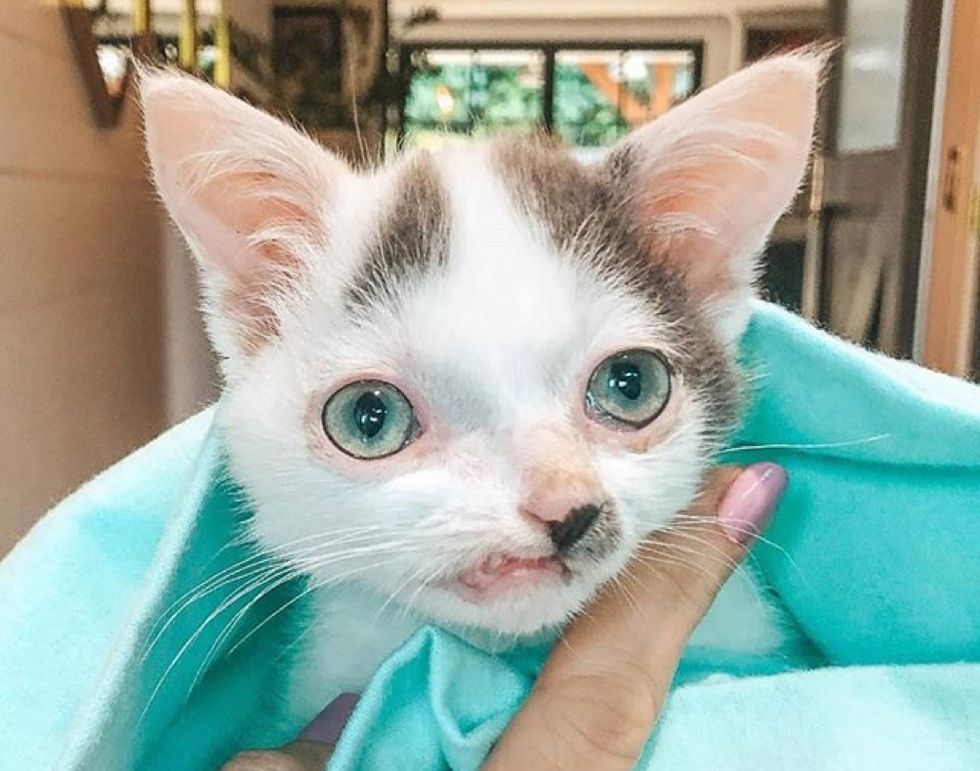 Friends for Life Rescue Network
The kitten whom they named Pinocchio, was born with a congenital cranial deformity, which affected his nose and mouth and resulted in the misalignment of his jaw. The 3-month-old kitty didn't let anything slow him down. He hopped around his play pen, constantly seeking new things to pounce on.
Soon after arrival, he started putting on weight and gaining strength. Over the next few weeks, the sweet feline continued to develop, but it became clear that he would need to have surgeries sooner than originally anticipated.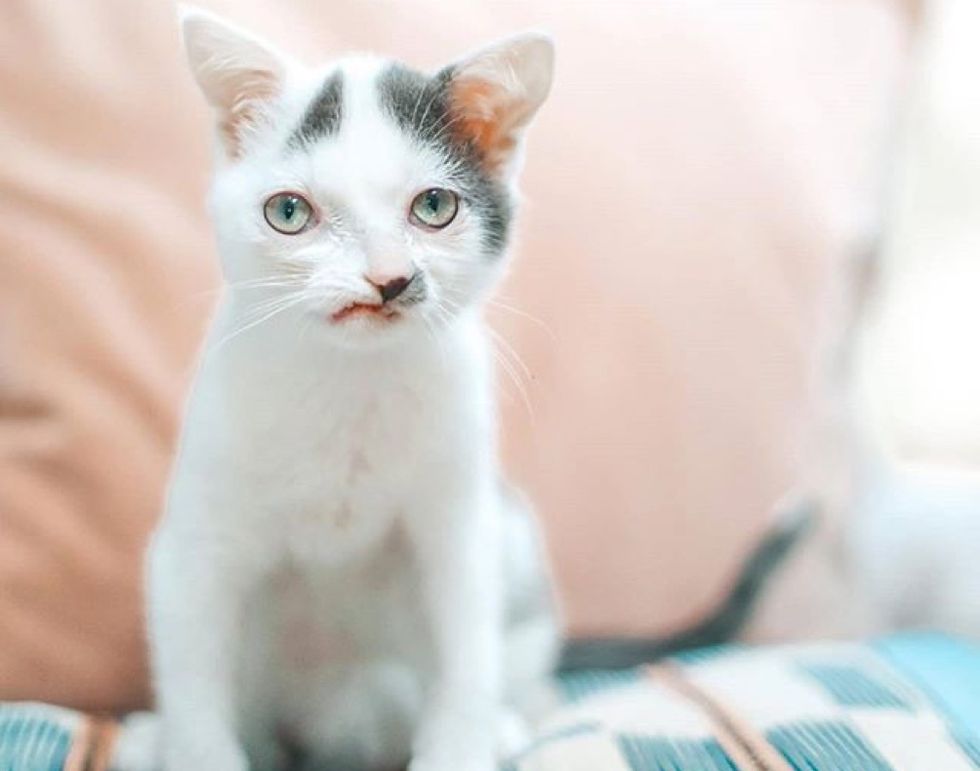 Friends for Life Rescue Network
As he grew, they discovered that his breastbone was turning inwards and effecting the ability for his lungs to expand fully. "X-rays show his chest shape has completely changed over the last few weeks."
Pinocchio underweight major surgical repairs for both pectus excavatum and umbilical hernia last week, so he could regain normal functionality and quality of life.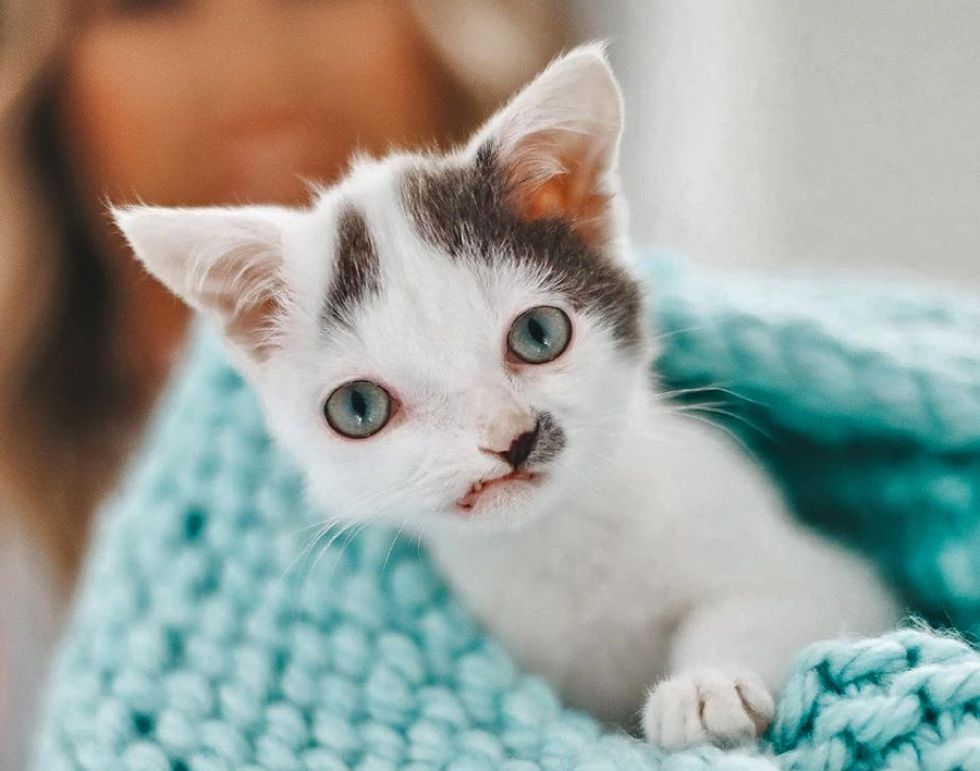 Friends for Life Rescue Network
The amazing little guy came out of the operation like a warrior. He perked up when the staff at Animal Speciality and Emergency Center visited him in the recovery room. The happy kitty rumbled with his adorable purrs while they petted him on his head.
"He completely won over the entire staff team who took care of him," Jacqueline told Love Meow. "They said he purred so loud they couldn't hear his heart, such a good boy."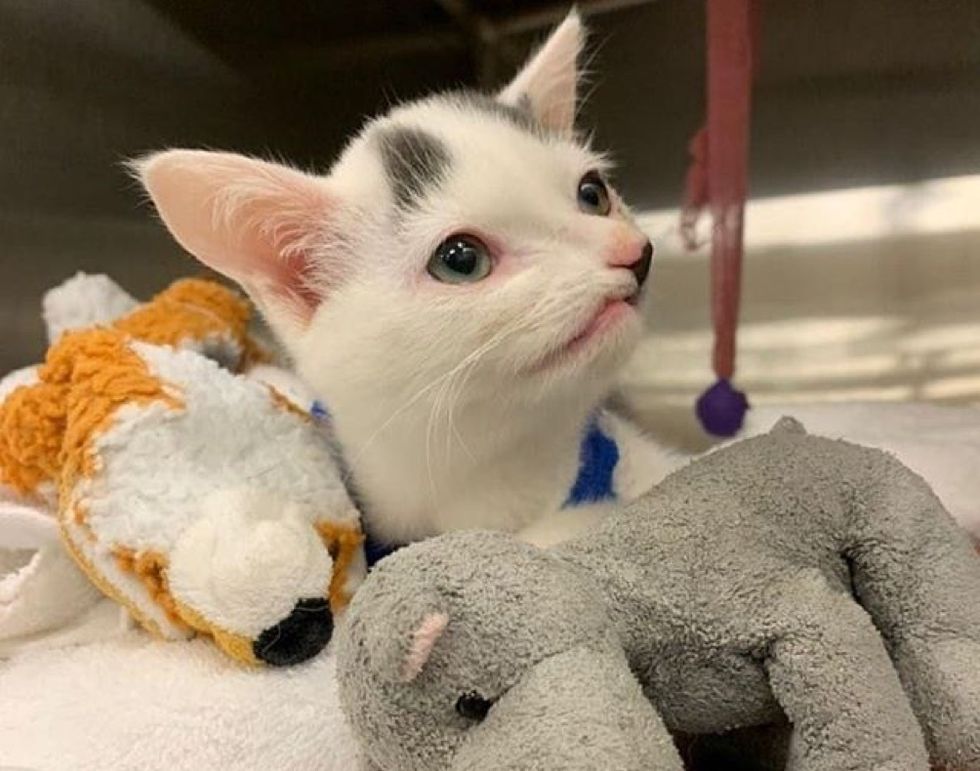 Friends for Life Rescue Network
Watch the sweet kitten in this video:

Sweet kitten rescue journey

www.youtube.com

After a couple of days at the hospital, Pinocchio made great progress and was well enough to be discharged. He went home with Jacqueline to continue his healing process.
On his first day home, sweet Pinocchio spent most of his time napping in his new, comfy bed, cuddling with his very own plush toy.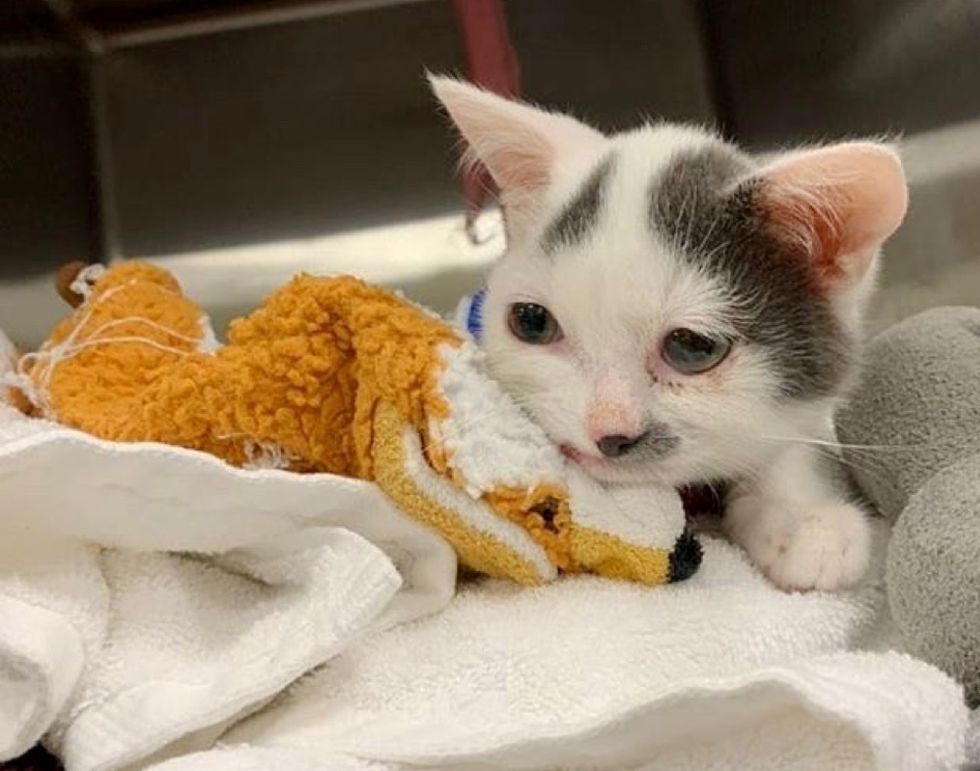 Friends for Life Rescue Network
As befits this brave kitty, he donned a cast with a superman sign. He was breathing a lot better and continued to make strides with his incredible resolve.
"I came home yesterday to a very playful boy who wanted lots of scritches. He has been up and about and is feeling much better and getting more active every day."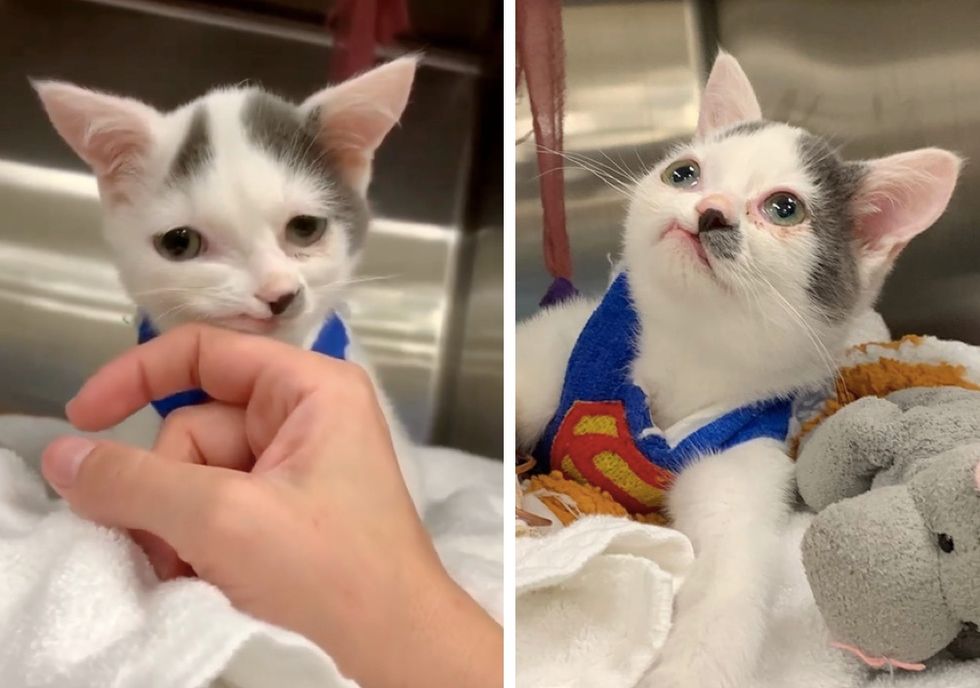 Friends for Life Rescue Network
"His spirit is just as it was — he is a strong, playful, loving sweetheart with the biggest purrs," Jacqueline said. "When he sees me, he shoots out of the bed (a little too fast) and comes right over for pets."
The super cat is excited about his VIP life. Once he is ready, he will return to his foster family and meet some new feline friends.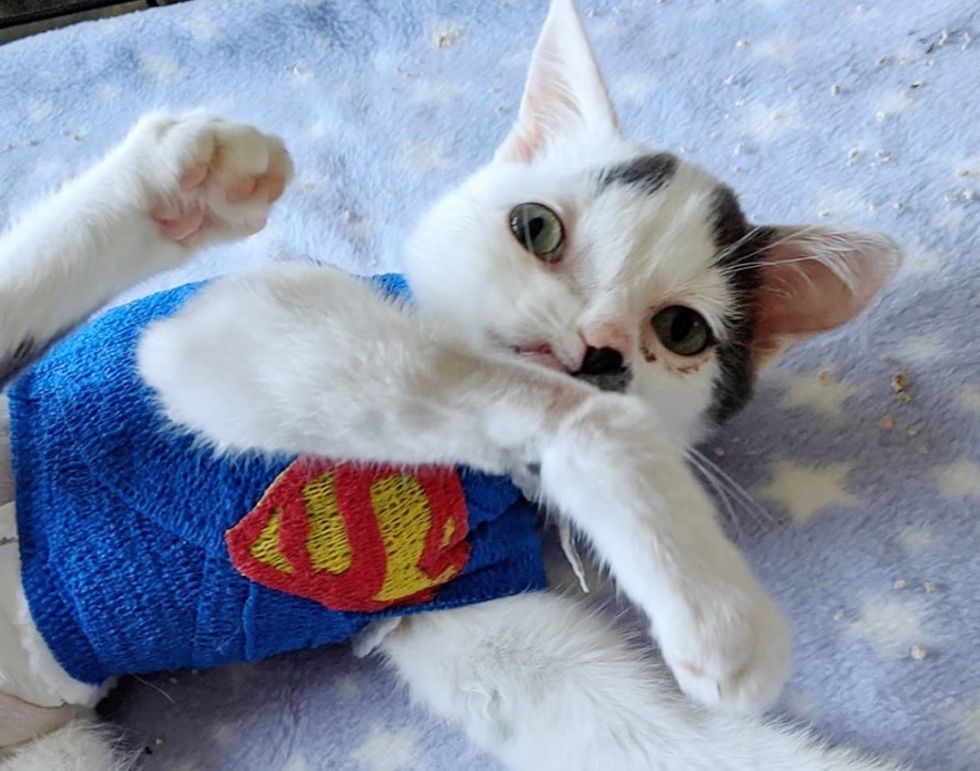 Friends for Life Rescue Network
Share this story with your friends. Follow updates on Pinocchio on Instagram and Friends for Life Rescue Network on Facebook and Instagram.
Related story: Cat Smiles at Everyone that Visits Shelter, and Hopes They Notice Her