A kitten with a silver coat was found all alone. A cat took her in and started raising her as her own.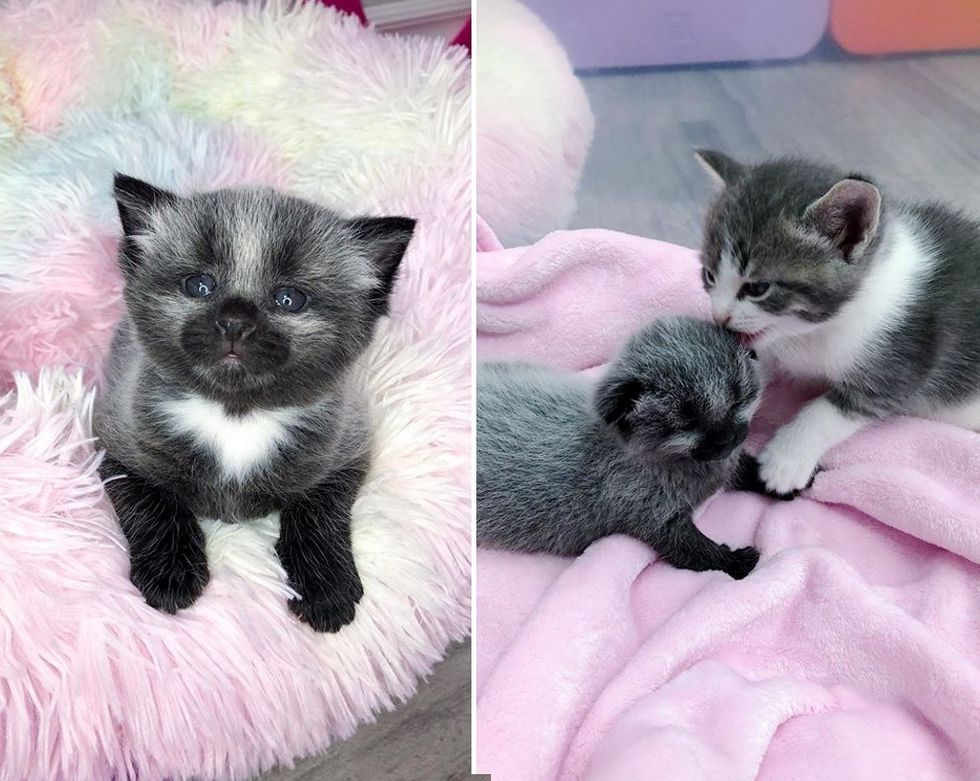 Tiny but Mighty Kitten Rescue
Mellissa of Tiny but Mighty Kitten Rescue (in Cornwall, Ontario, Canada) took in a pregnant stray two months ago. A few weeks into foster care, the cat's belly popped, and she gave birth to a beautiful litter of kittens.
Later that month, Mellissa was contacted about a tiny singleton who had been found alone on a sidewalk. The kitten was extremely small, weighing only 82 grams. Despite it all, she was active and vocal, having survived on her own thus far, out of her own volition.
Knowing how much a mother's love can benefit an orphan, Mellissa immediately offered to help. The plan was to introduce the kitten, Janie, to the cat mom, June, when she was deemed medically clear.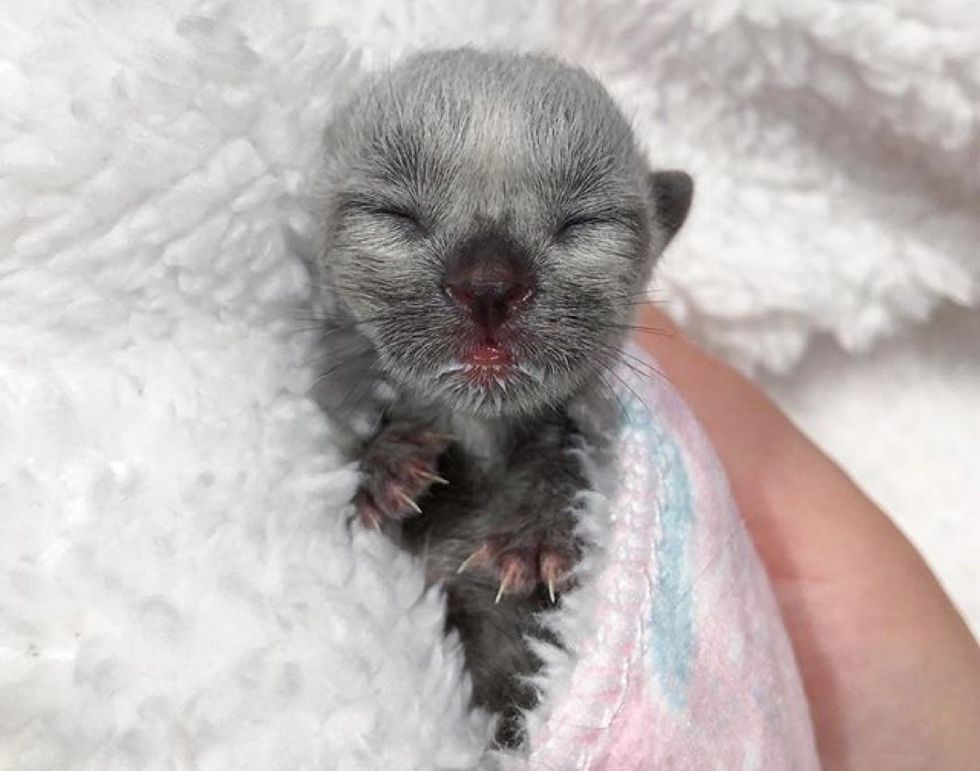 Tiny but Mighty Kitten Rescue
The pint-sized kitten was born with a fever coat, which can occur when the mother is ill with a high fever or stressed during pregnancy. As a neonate, Janie needed to be fed and cared for around the clock. She couldn't regulate her body temperature at this age, so she was kept in a cozy incubator after feedings.
After getting a full belly, she would wave her tiny paws in pure bliss. In just three days, baby Janie reached the 100-gram mark.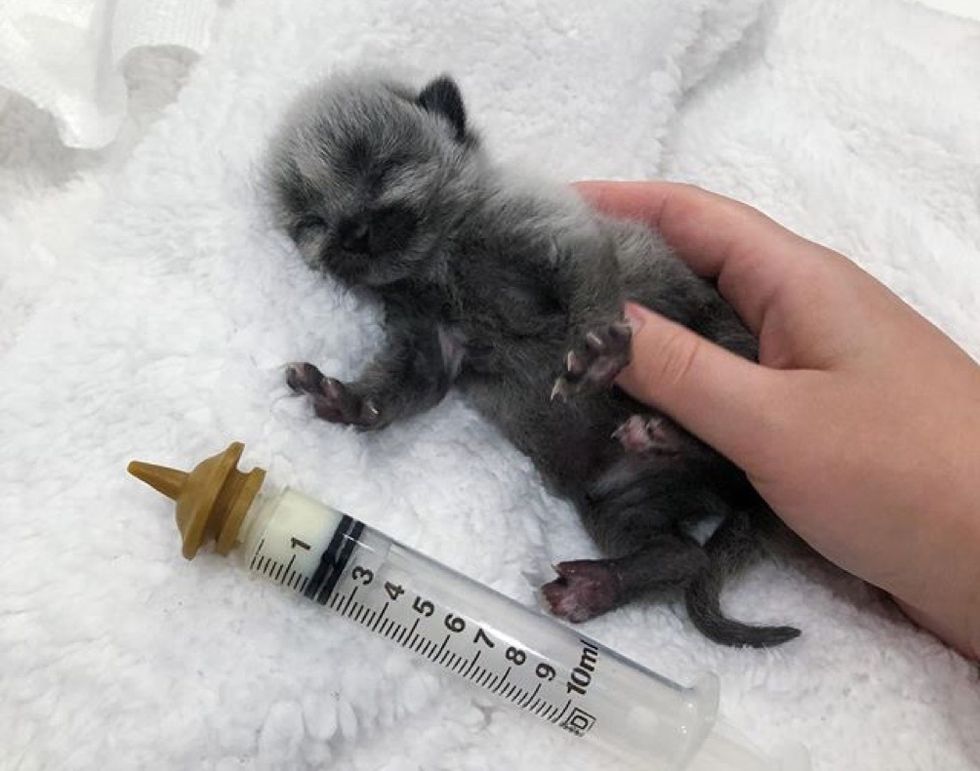 Tiny but Mighty Kitten Rescue
It was the meowing that caught Mama June's attention. She could watch Mellissa feed the kitten through a large window and anxiously wanted to help. "She wanted that baby so bad and kept crying at the incubator," Mellissa said.
Over the next few days, Janie continued to grow and put on weight. Patches of her coat began to darken, giving it an unusual coloration. "She was constantly purring and rolling over for belly rubs."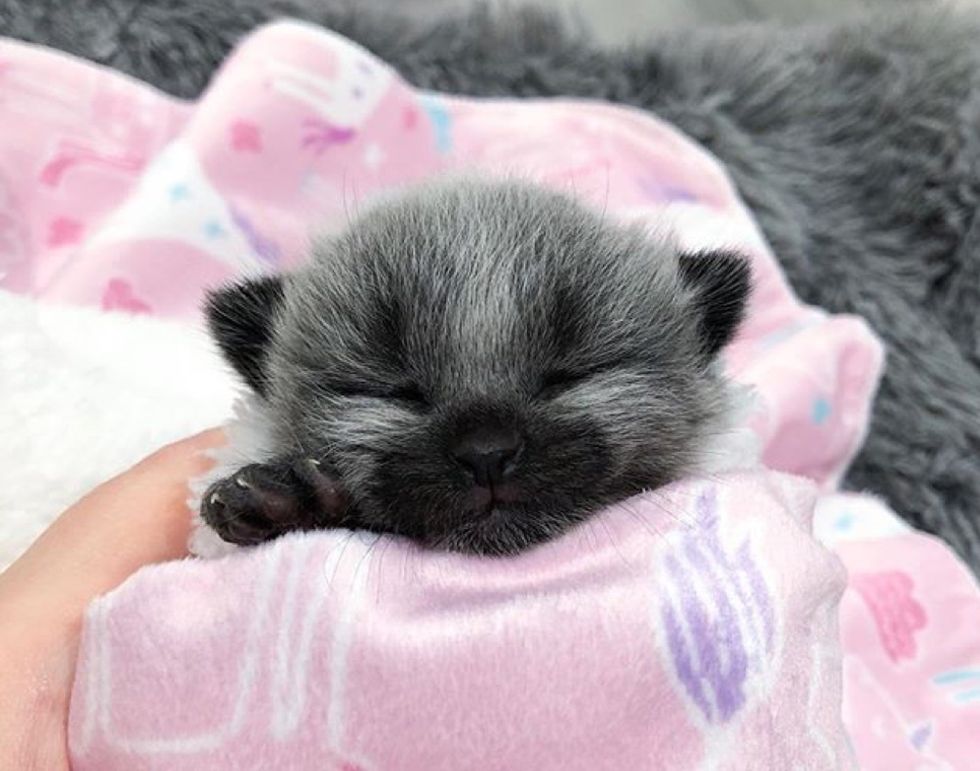 Tiny but Mighty Kitten Rescue
At two weeks old, the little ball of fur was finally ready to meet her new mom. As soon as Mama June heard her squeaks, she came running towards her and started cleaning the baby from head to toe.
"June immediately accepted Janie as her own as soon as I was able to safely introduce them," Mellissa told Love Meow.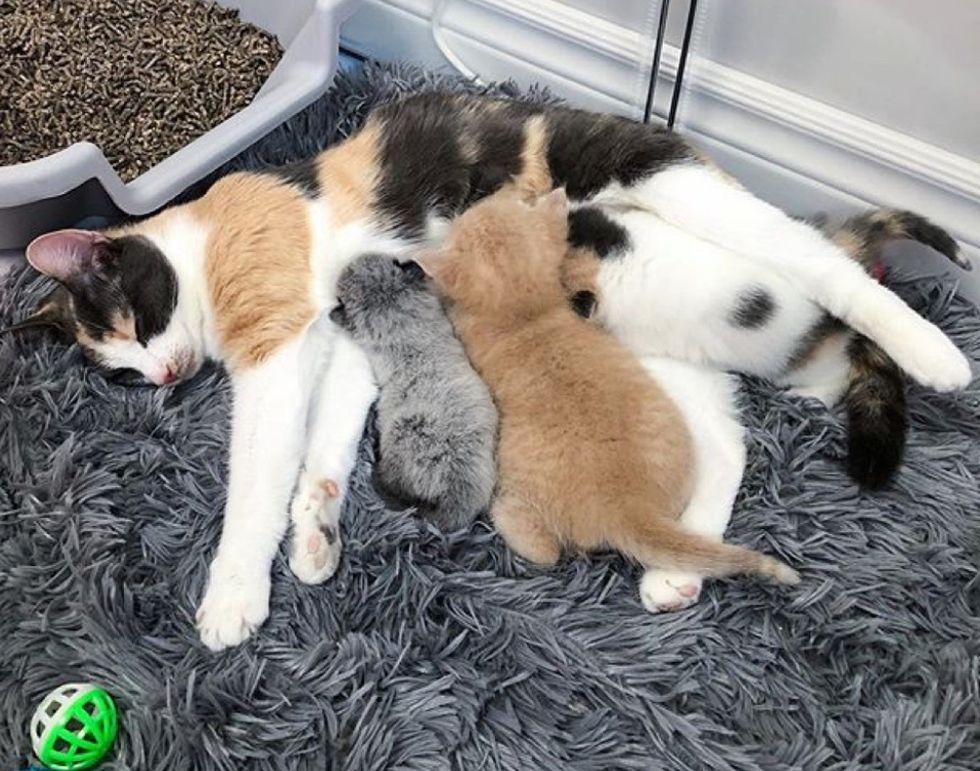 Tiny but Mighty Kitten Rescue
"June had to lick and clean her for a good 10 minutes, and then she cuddled up with everyone while June's babies were nursing. It was such a sweet moment to witness."
Being bottle-fed is all Janie has ever known. Though she doesn't nurse on her new mom, she loves to cuddle up to her and other kittens for comfort.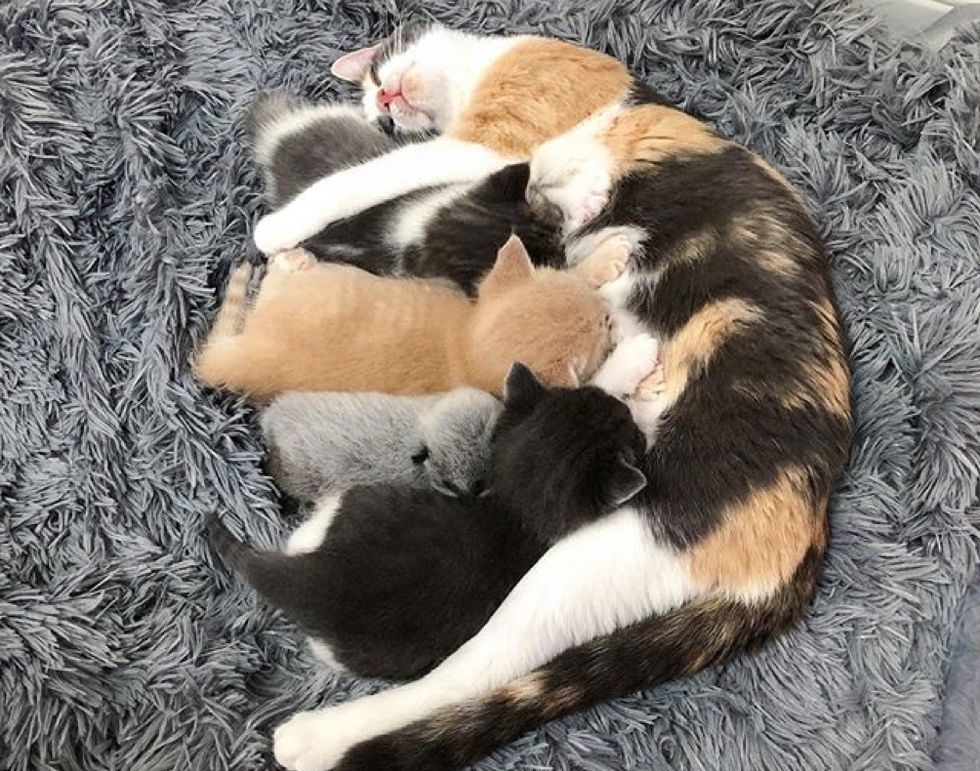 Tiny but Mighty Kitten Rescue
Watch Janie the kitten and her journey in this cute video:

Janie the kitten

www.youtube.com

One of June's kittens really took a liking to their little sister. Jasmine, the most independent of the litter, was so intrigued by Janie that she spent extra time with her while other kittens were out creating antics.
She loves to shower her baby sister with licks and cuddles.
Tiny but Mighty Kitten Rescue
"Jasmine is the closest kitten to Janie although they've all been accepting of her," Mellissa shared with Love Meow.
When Janie's eyes cracked open, she immediately started to waddle about, wanting to join in the fun with her siblings. With her new-found vision, as soon as Mellissa entered the room with a bottle, Janie enthusiastically wiggled her way to her food source.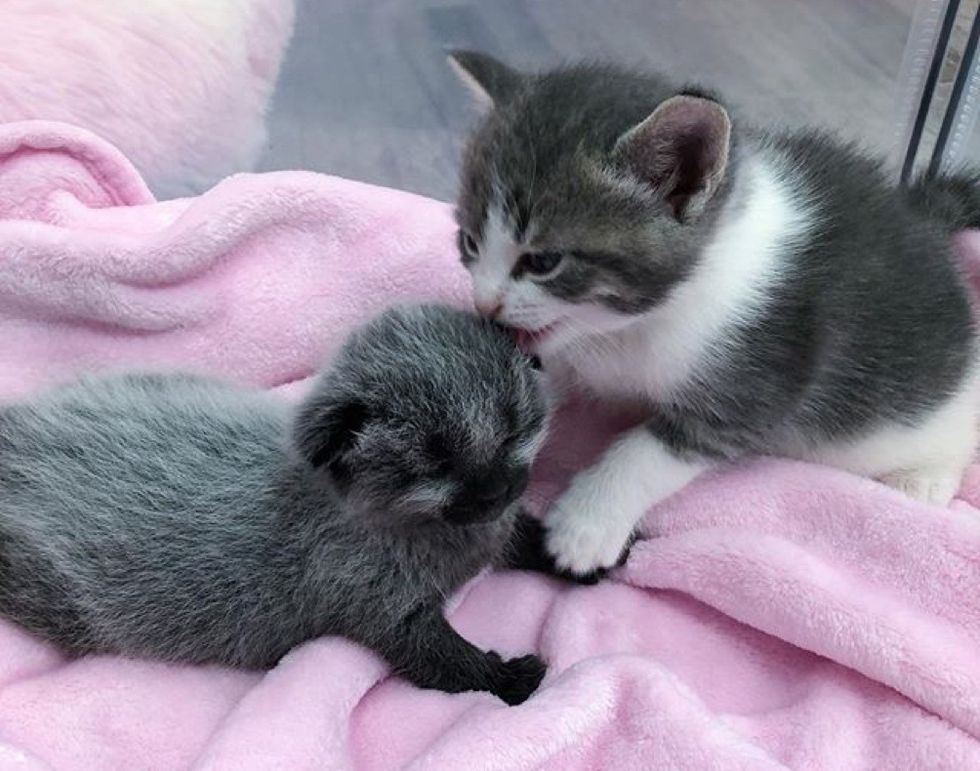 Tiny but Mighty Kitten Rescue
Janie is about two weeks younger than her foster siblings, but what she lacks in size, she makes up for in personality.
She figured out how to use the litter box all on her own and tried to do everything just like other kittens. "Witnessing baby Janie check out some toys for the very first time with her new siblings was so rewarding," Mellissa said.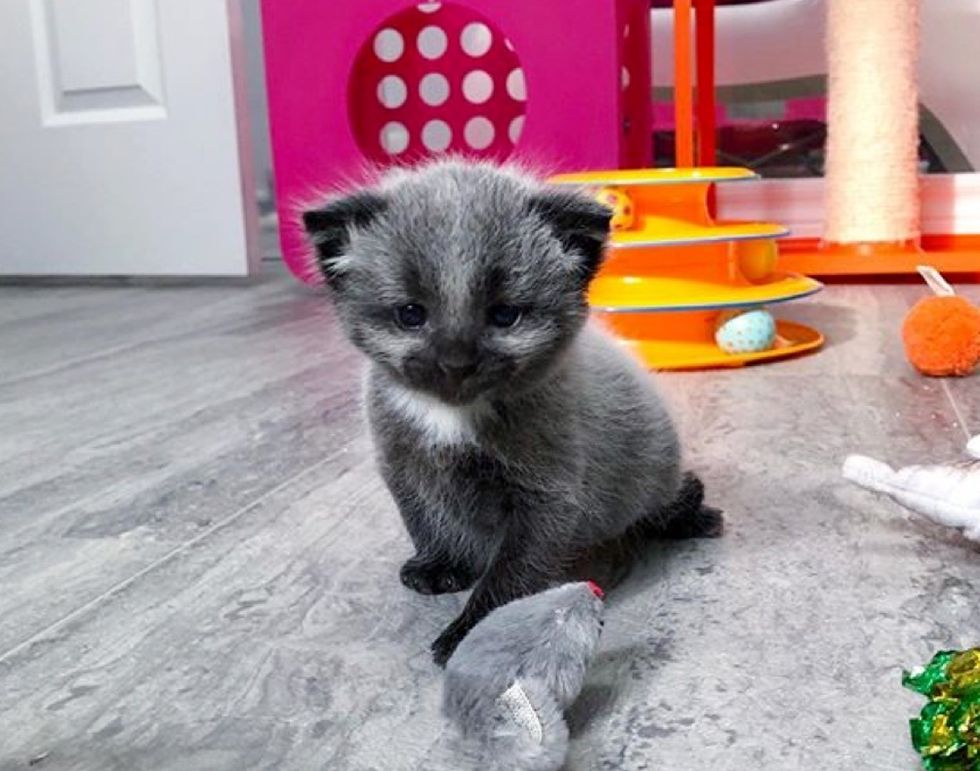 Tiny but Mighty Kitten Rescue
Janie is now four weeks old and has crossed the one-pound milestone. She's starting to learn to eat like a big kitty by watching Mama June, and is thriving in foster care.
"She's getting to the age where she will be able to keep up with other kittens. When she can't find me or her siblings she just cries."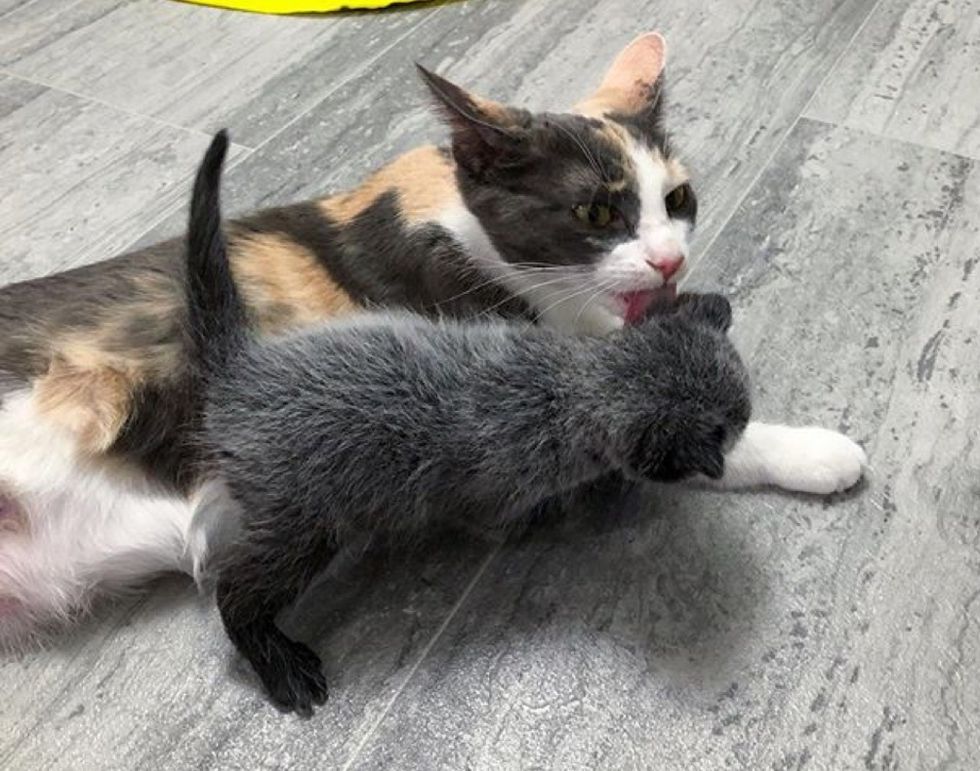 Tiny but Mighty Kitten Rescue
After a rough start to life, the tiny singleton really blossomed. She is now growing by leaps and bounds and taking the world by storm.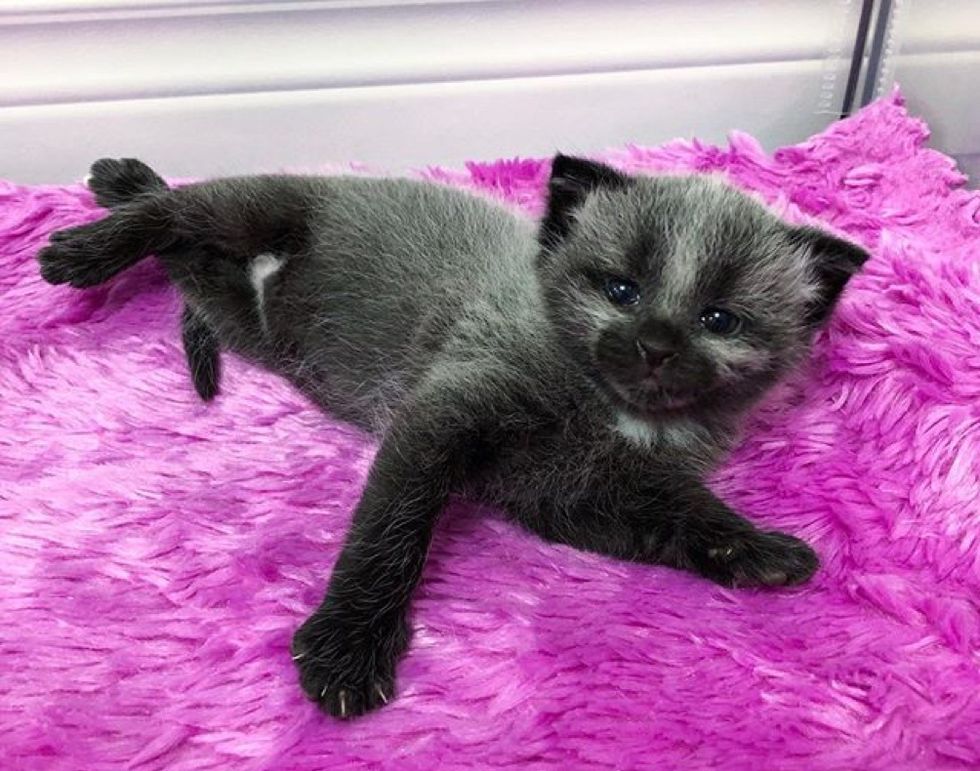 Tiny but Mighty Kitten Rescue
Share this story with your friends. Follow Tiny but Mighty Kitten Rescue on Facebook and Instagram.
Related story: Stray Cat Wanders into Family's Home to Have Kittens and It Turns Her Life Around