Every cat needs a throne 👑
We independently pick all the products we recommend because we love them and think you will too. If you buy a product from a link on our site, we may earn a commission.
Does your cat chill for hours on end at the window? It's a fact — cats are obsessed with stalking and creeping on everything going on outdoors.
So why not get yours a front-row seat to all the action?
The Dodo rounded up the most luxurious window perches, guaranteed to make your cat feel like royalty. Where's the kitty popcorn for the show they're about to watch?
24″ Kitty Sill Cat Perch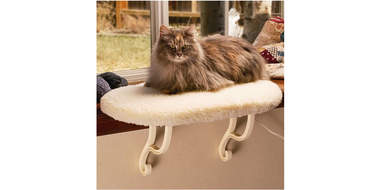 Wayfair
Why You'll Love It: Instead of a hard wood perch, try this indulgent foam cloud of a perch that will let your cat stay comfy for literal hours of creeping on the neighbors.
Buy it now from Wayfair for $42.99
Curious Cats Window Perch
Etsy
Why You'll Love It: This perch provides a plush, cozy surface for soaking in the sun — plus it comes in a variety of fabrics. You can even request your favorite fabric if you'd like something specific! 
EZ Mount Window Kitty Bolster
Chewy
Why You'll Love It: This marriage between a traditional window perch and a bowl — cats randomly love hanging out in bowls — is so stinking fun and functional. Keep in mind the measurements, though, because a fat cat might … overflow.
Buy it now from Chewy for $31.33
Cat Window Hammock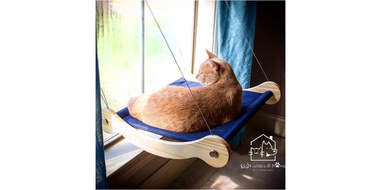 Etsy
Why You'll Love It: Not only is this perch comfy for your kitty, but it's also pleasing to the eye! Those wooden sides, right? But if you don't believe it, check out the rave reviews (which include tons of pics of happy lounging cats). 
Buy it now from Etsy for $76.86
K&H Pet Products EZ Mount Penthouse Cat Window Perch
Chewy
Why You'll Love It: This is like a cat condo meets a window perch and we're loving it. It's lined with microfleece for extra comfort, and it's perfect for cats who are happiest when hiding — but still want to stalk the neighborhood.